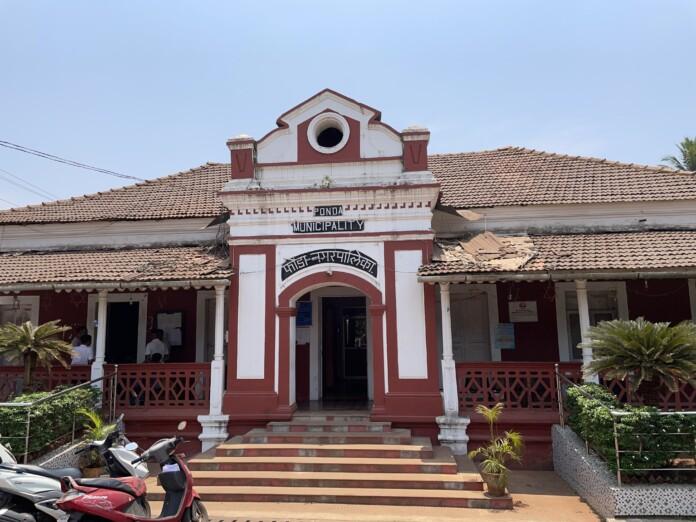 Ponda Municipal Council Building: A Heritage Space Reflecting the Affairs of the City
Ponda: Nestled in the heart of Ponda city lies a heritage building that reflects the history and governance of the city – the Ponda Municipal Council building. Built in the early 20th century, the building has stood the test of time and continues to serve as an important landmark in the city.
The Ponda Municipal Council building was built between 1885-1896 (Ref: www.pmcgoa.com) during the Portuguese rule in Goa. The building served as the seat of the Municipal Council of Ponda and was an important administrative center during the colonial era. The building's architecture reflects the Indo-Portuguese style, with intricate details and beautiful tilework adorning the facade.
Ponda is currently facing several challenges due to the rapid urbanization and unplanned development of the city. The once-quiet temple town has transformed into a bustling hub of activity, with heavy traffic, garbage, and a lack of foresight causing significant issues for the local residents.
One of the most pressing issues faced by Ponda city is traffic congestion. The city's narrow roads and unplanned development have made it difficult for commuters to navigate the city. The Ponda Municipal Council building, situated in the heart of the city, is no exception, with heavy traffic often clogging the roads around it.
Garbage disposal is another major challenge faced by the city. With the rapid growth of the city, the amount of waste generated has increased significantly, leading to improper disposal and littering.
Unplanned development is another issue that has plagued the city. The lack of foresight in urban planning has led to haphazard construction, with little regard for the city's heritage and character. This has resulted in an unappealing cityscape, with the Ponda Municipal Council building standing out as one of the few heritage structures amidst a sea of unremarkable concrete buildings.
In conclusion, the Ponda Municipal Council building is a testament to the history and governance of the city.
However, the current state of the city is one of chaos and disorder, with traffic congestion, garbage, and unplanned development posing significant challenges. It is imperative that the local authorities take steps to address these issues and preserve the heritage and character of the city, with the Ponda Municipal Council building serving as a reminder of the city's rich history and cultural heritage.