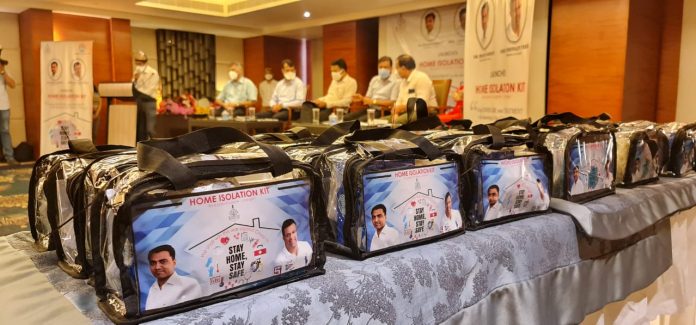 Panaji – The real face of publicity obsessed BJP Government is exposed once again. The Party with a Difference has a single point agenda of making "Business from People's Sickness". It is shocking to see the photos of Publicity Hungry, Defective & Corrupt Chief Minister Dr. Pramod Sawant & Health Minister Vishwajit Rane on Covid Home Isolation Kits.
We pray to GOD to bless each and every Goan with Good Health & keep all Goemkars away from these Isolation Kits stated GPCC General Secretary Amarnath Panjikar reacting sharply to the photos of Chief Minister and Health Minister put on Home Isolation Kits launched by the Health Department today.
The photos of Dr. Pramod Sawant and Vishwajit Rane without Masks on the Home Isolation Kit has unmasked the real face of BJP charged Amarnath Panjikar.
BJP Government did not leave a single opportunity to make fortunes and seek publicity from Covid Pandemic. Instead of helping people by creating healthcare facilities, Health Minister Vishwajit Rane and Chief Minister Dr. Pramod Sawant were busy looting the State Coffers along with all other ministers charged Amarnath Panjikar.
It all started with Chief Minister Dr. Pramod Sawant adamant to keep all shops of essential commodities closed in the last week of March after the nationwide lockdown was announced by the Prime Minister to facilitate BJP Cadres to do horading of essential commodities. People were made to run from pillar to post to get a packet of milk when videos emerged of Deputy Chief Minister Chandrakant alias Babu Kavlekar doing hoarding of essential items in a godown in his Constituency. The forceful lockdown was against Central Home Minsitry guidelines reminded Amarnath Panjikar.
When people were demanding for Community Testing, Chief Minister was adamant to expose 8000 Government Employees to 15 lakh Goans to conduct Community Survey. Till date people are not aware of the outcome of the said Survey.
The suspicious death of Congress Leader Jitendra Deshprabhu and subsequent suspension of one doctor was also part of the mismanagement & corrupt practices adopted by the BJP Government. The doctors suspension was revoked as the said doctor was related to former Chief Minister's family family stated Amarnath Panjikar.
The deliberate delay in commissioning the South Goa District Hospital and declaring it as Covid Hospital was also part of the Money Making Strategy of the BJP Government who allowed Private Hospitals to charge exhorbitantly high to treat Covid Patients claimed Amarnath Panjikar.
The loot on Construction Workers Welfare Fund was also during the Covid Pandemic which is now certified by the Lokayukta.
Tourism Minister Babu Ajgaonkar continued with his Mission 30% Commission by sending his collection agents to the various shacks and hotels even during Covid Lockdown.
People of Goa are watching the gimmicks of the BJP Government and will teach them a lesson in 2022.
Amarnath Panjikar
General Secretary – GPCC