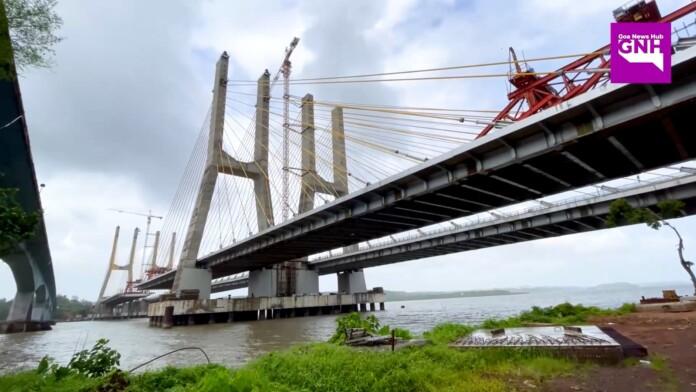 Cortalim: The second phase of Zuari Bridge on Panaji-Margao Highway in Goa would be ready for commissioning by November, 2023.
(click here to see the full episode: https://www.youtube.com/watch?v=lVVvRP5j8FU )
Atul Joshi, Vice President, Dilip Buildcon Limited said that almost 97 per cent of the work on the bridge has been completed and the entire bridge would be "connected" by September, 2023.
Joshi said that once the bridge is connected, the work on asphalting and other would be completed within a month, making this structure ready by November. He said that the company had given a deadline of December (2023) for the State government to complete this project.
The first phase of Zuari bridge was inaugurated in December 2022. Joshi said that once the second phase is completed, this bridge would be India's second longest cable stayed eight-lane bridge.
Joshi said that the first phase of the project (which is inaugurated inDecember last year) took lot of time because of certain issues. He pointed out that the consultants from China could not get the visa (due to covid-19 situation) and also the European designers could not come.
He said that the DBL then appointed a Mumbai-based designer who did "tremendously good job." Narratting his experience with the project, Joshi said "earlier, for a single segment it took us two-three months to lift but now we are getting cycle of 12 days."
He said that such bridges is "learning phase for India." "These type of bridges are rare in India. Even the bridge is designed now in India. Now we don't have to depend on other country designers," he said.
The officer said that except for the material used in this (entire) project, everything is Made In India.
Joshi said that for the first phase was difficult mainly because of the design issues. "In February we started this bridge (the second phase) and it will be completed in nine months," he said.