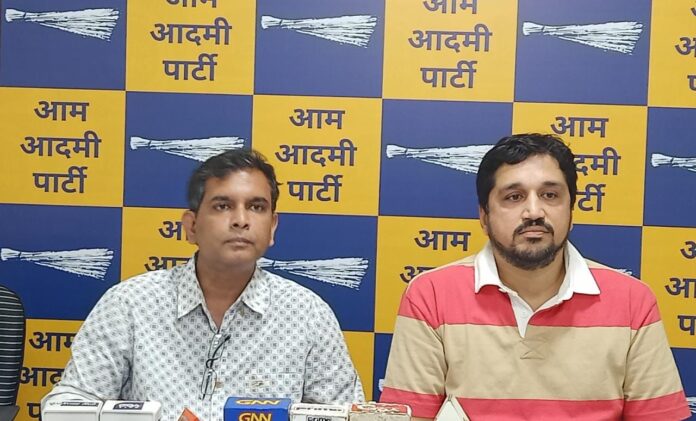 Aam Aadmi Party leader Amit Palekar criticized BJP's Goa chief Devendra Fadnavis for repeatedly visiting the state to mislead Goans. According to Palekar, the so-called double-engine BJP government has failed to provide basic infrastructure to Goans, as a result, their chief keeps coming to the state to mislead the Goans. Palekar on Friday challenged Fadnavis for an open debate on Delhi vs Goa's developmental work.
Adding he said, "Contrary to it the Delhi government has done great work in the health, education, electricity and water sector. Thus, the people of Delhi helped AAP to form the government for the third time in Delhi. On the other hand, looking at the BJP's work in Maharashtra and Delhi, people rejected the BJP. Therefore, to familiarize Fadnavis with Arvind Kejriwal's developmental work, we will arrange a Delhi tour for him".
The BJP's Goa in-charge Devendra Fadnavis targeted the Aam Aadmi Party at a political rally held in Mayem saying "Delhi is a half state, AAP does not have control of the police, road building. AAP has no responsibility barring water supply, education and health. The Central government pumps in crores of rupees there and on the basis of that, AAP is promising subsidies in Goa. AAP believe it can buy people in Goa and run their politics".
Reacting to this AAP vice-president Valmiki Naik said, "In accordance with the constitution structure, in Delhi, the LG is responsible for police, land, and public order. Therefore, Fadnavis should stop blithering. Apart from free electricity and water supply, the Delhi government has also built flyovers and has also installed CCTVs. AAP has introduced doorstep delivery as well. AAP's work in the healthcare sector and education sector has been appreciated all around the world. Delhi is the only state in the entire country that is providing free electricity and water to its citizen".
"Fadnavis in his speech also mentioned that no single covid patient has been treated in the Mohalla clinics designed by the AAP. Mohalla clinic is not meant for Covid patients. The patient requires a special kind of treatment and the Delhi government has provided that in the Covid hospitals. Even people from UP, Haryana took treatment in the Delhi hospitals", he said.
Adding Naik said, "While addressing the Mayem people Fadnavis stated that if AAP comes to power in the state and if they lack money while working on the infrastructure projects what it will do? Unlike the BJP, AAP is not here for self-development. AAP is known for delivering what it promises. We don't want the BJP's developmental model. In the last 10 years, the state government has done nothing for the betterment of Goans therefore Fadnavis is spreading lies".