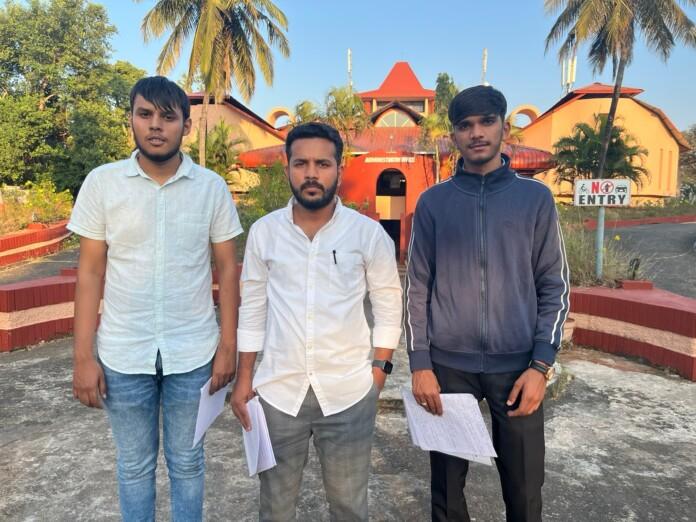 Panaji:  The National Students Union of India (NSUI) has demanded that the Goa University desist from conducting the students council elections in the month of February pointing out that holding the elections towards the end of the academic year would be an entirely pointless exercise, besides also depriving the students of professional colleges from contesting the elections since it is likely to clash with their exams.
Addressing the media after a meeting with the Vice Chancellor, who had called members of all student unions to discuss the matter, President of the NSUI Naushad Chowdhuri demanded that the elections be held in July during the next academic year or if they are being held this year, should not be held in a manner in which they clash with examinations.
"We have heard through our sources that the Goa University is planning to hold the elections for the students council during the months of January and February. This will clash with the semester exams of the professional colleges including that of engineering, law, architecture, agriculture, fine arts, business administration, medicine, dentistry, agriculture, etc." Naushad said.
"Due to semester exams of all the professional and other courses almost 50% students won't be able to participate in the elections, if there will be no students involvement, what is the use of this election? This will deny the students of these professional colleges from contesting the elections, which is their right," he added.
He also pointed out that as per SSA-7 of the statutes GUSC elections should be conducted within six to eight weeks after the commencement of the academic yer so as to give the elected student council the entire academic year to work for the student community, plan and execute activities for the entire academic year.
"But unfortunately by planning to conduct elections at the end of the academic year, where the GUSC will get only two months in office, Goa University is going against the fundamental idea of its own statutes SSA-7," he said.
Clause (xi)a of SSA-7 says all the candidates contesting elections shall have equal opportunity to campaign, but in this case all students are not getting equal opportunity to even contest the elections forget about campaigning as almost 50% students are deprived due to their semester exams, is this justice to them ?
Also there is a budgetary allocations for GUSC of 10 lacs for every term which will not be utilised in the interest of students community and Goa University due to no activities taking place, which will be big drawback if elections are happening at the end of the current academic year 2022-23.
Never in this history of Goa University elections of students council held at the end of the academics year , this is total violation of SSA-7 Statutes of Goa University .
Goa University should not come under any political pressure of the ruling bjp Govt and should take this decision in the interests of the Students Community.