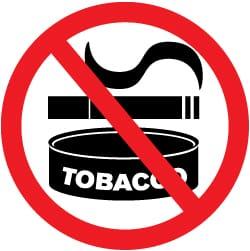 Panaji: NOTE Goa have applauded the decision by Health Department of Goa to declare Government Offices and buildings "Tobacco Free". In a recent letter written by Health Secretary, Pravin Hire Parab to the Heads of all State Departments he has asked the authorities to make government buildings/offices tobacco free in order to protect public health and contributing to "Swach Bharat-Swasth Bharat" campaign in their specific office premises.
The letter also states that all heads of departments are directed to enforce the same besides submitting the compliance report by June 30 to the director of Health Department . The health department has informed that the harmful effects of tobacco use are well established and accepted globally. The use of tobacco is a prominent risk factor for 6 to 8 leading causes of death and almost 40 percent of the Non Communicable Diseases (NCD) including cancers, cardio-vascular disease and lung disorders are attributable to tobacco use.
Mr. Ashim Sanyal, COO, Consumer VOICE emphatically stated "It is appreciable step taken by the Health Department Goa. Tobacco use is the leading single preventable cause of deaths worldwide. The second-hand smoke from cigarettes pose a risk to non-smokers, children and pregnant ladies as well. Tobacco use is highly detrimental to health. It is a major risk factor for Cancer, Cardiovascular Diseases (CVD), diabetes, chronic lung disease, stroke, infertility, blindness, Tuberculosis (TB) and oral cavity etc.
Dr.Shekhar Salkar, President, NOTE said "The decision will help to curb the proliferation of smoking as well as use of other tobacco products in the state". According to the global adult tobacco survey 2016-17 (GATS-2) the number of tobacco related deaths per day in India are 3,700, which are almost 154 per hour. The GATS data shows prevalence of tobacco consumption is increase compare to GATS-I. Global Adult Tobacco Survey 2 (GATS 2) shows 9.7 % percent of adults in Goa consume tobacco in some form or the other. This move will surely curtail the tobacco consumption, he added.
The number of deaths every year in India, which is attributable to tobacco use, is 8-9 lakhs.
Section (4) of the Cigarettes and Other Tobacco Products (Prohibition of Advertisement and Regulation of Trade and Commerce Production, Supply and Distribution) Act COTPA 2003 prohibits smoking in all public places. 'Public Place' is defined as any place to which the public has access whether as of right or not and includes all places visited by general public namely auditorium, hospital building, railway waiting room, amusement centres, public offices, court buildings, educational institutions, libraries, coffee houses, canteens, banks, clubs and also open spaces surrounding hotels/restaurants etc.