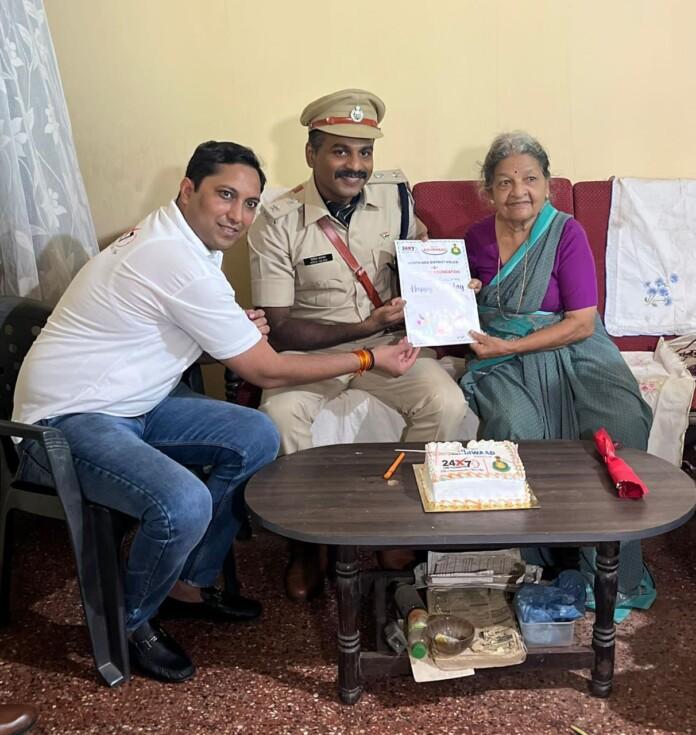 In a remarkable demonstration of compassion and community spirit, the Goa Police, in collaboration with the 24×7 Care Foundation, celebrated the birthdays of senior citizens living alone on Independence Day. This initiative, undertaken by visiting the homes of these elderly individuals, not only commemorated their special day but also aimed at building a stronger sense of camaraderie among them.
Independence Day was chosen for this heartwarming event to highlight the values of freedom, unity, and compassion. The Goa Police and 24×7 Care Foundation recognized that many senior citizens who live alone often experience isolation, and the event sought to mitigate this by fostering a sense of belonging and pride within the community.
The program involved Mr. Nidhin Valsan(IPS), Superintendent of Police(North Goa) and other police personnel and team of the 24×7 Care Foundation visiting the homes of the alone-living elderly individuals. The participants not only celebrated the birthdays of these seniors but also distributed flags under Har Ghar Tiranga Campaign as a symbol of patriotism and unity, further aligning the event with the spirit of Independence Day. In addition to that, in order to ensure the safety and security of Senior Citizens, Ashirwad Stickers consisting emergency helpline nos. Were also displayed at their homes.
During the visits, the elderly were not only wished a happy birthday but were also engaged in conversations, stories, and activities that brought smiles to their faces. The police officers and team of 24×7 Care Foundation shared memorable moments with the seniors, reinforcing the idea that they are an integral part of the community's fabric.
The event received overwhelming support from the community.This collaborative effort between the Goa Police and 24×7 Care Foundation showcased how small gestures can make a big difference in the lives of those who need it most.