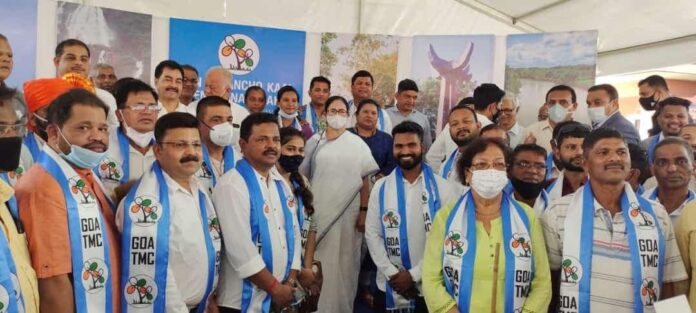 Panaji: Several prominent Congress leaders from the State joined Trinamool Congress Party on Monday in presence of West Bengal Chief Minister Mamata Banerjee.
Former All India Congress Committee member Martha Saldanha was amongst the prominent leader who resigned from the Congress party to join Trinamool Congress.
During Banerjee's Goa visit on Monday, in all 31 members who had allegiance to Congress and Aam Aadmi Party respectively joined the TMC, which is one of the biggest joining in the Banerjee led party during recent times in the poll bound state.
Jose (Raju) Cabral, Congress leader from Nuvem assembly constituency in South Goa, quit the party to join TMC along with Samil Volvoikar, his party colleague from Cumbharjua constituency in North Goa.
Several other Congress block members from Cumbharjua constituency including Shailesh Gauns, Manuel Gomes, Albin Sequeira, Sandip Kerkar, Tatu Gauns, Sanjiv Naik, Milind Tari and Krishna Kopulla joined TMC.
Former panchayat members from across Goa including Rajesh Naik, Julio Heredia, Nicholas Raposo, Mohan Priolkar also joined the party.
Former chairperson of Cuncolim Municipal Council Shashank Desai and former councilor of Mormugao Municipal Council Nilesh Navelkar has also joined TMC.
Former AAP candidate Rama Kankonkar also joined TMC.