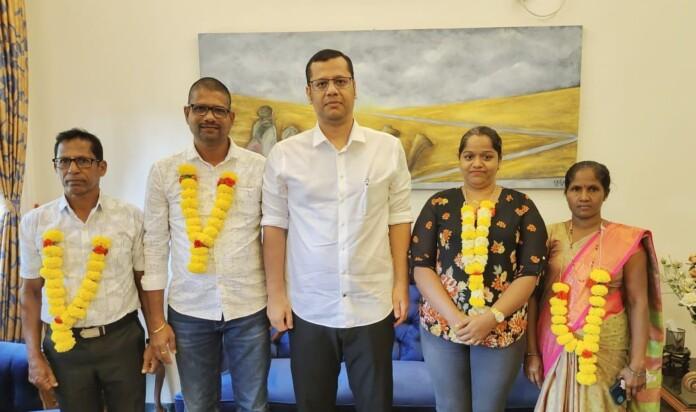 Margao – The ewly elected Sarpanch of Paroda Panchayat Paulina Fernandes, Deputy Sarpanch Shailesh Jotkar & Panchayat Members Joaquim Dias
& Rajashree Gaonkar today called on the Cuncolim MLA & Leader of Opposition Yuri Alemao and promised him to work for the people with his blessings & support.
I assured them of my full cooperation & support for overall development of Paroda Panchayat Area. My best wishes to all the four members. I am sure they will work unitedly for progress of the Panchayat, Yuri Alemao said.
I am happy that the new Panel has taken over the Paroda Panchayat. I will ensure that all their people's welfare oriented proposals get cleared immediately and people of Paroda feel the change, Yuri Alemao said.
Sarpanch Paulina Fernandes said that all the four Panchayat Members will take collective decisions and remain united under the leadership of Cuncolim MLA and Leader of Opposition Yuri Alemao.
Entire Goa has seen the performance of our MLA Yuri Alemao. He has emerged as the new Voice of People. We will remain with him and work with him to dvelope Paroda and entire Cuncolim Constituency, said Deputy Sarpanch Shailesh Jotkar.