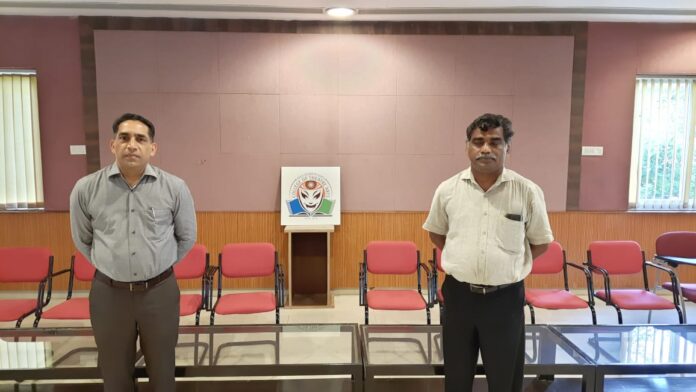 Ponda: Kala Academy Goa's College of Theatre Arts temporarily shifted to Rajiv Kala Mandir Ponda on account of repair works of Kala Academy announces Minister Govind Gaude in the presence of Member Secretary of Rajiv Kala Mandir Swati Dalvi and Principal of college Ramrao Wagh.
It may be recollected that Kala Academy complex is under renovation and hence Kala Academy office is currently shifted to Old Secretariat complex. Government was requested to provide alternate premises to all the units of Kala Academy. However, along with office, other units of Kala Academy such as Western Music, repertoire etc have been shifted to this venue but no decision was taken on College of Theatre Arts as well as Dance school of Kala academy.
Since the college is affiliated to Goa University and at present its first batch of the four year programme in Bachelor in Performing Arts(Theatre) are due to graduate in the coming academic year it was a major issue for the college to locate a campus that has required spaces for performances staged by students as it is a major academic requirement. There was no such facility available in Panaji city and hence it was decided to shift the college temporarily to Rajiv Kala mandir which has a similar infrastructure to that of Kala academy. Moreover, being a central place, it will be convenient for students to travel to Ponda as and when classes begin.
Principal of the college Prof Ramrao Wagh thanked Shri Govind Gaude, Chairman of both Kala Academy and Rajiv Kala Mandir for accommodating the college at Ponda complex.
Chairman Shri Govind Gaude announced that his proposal to shift the college has been approved by the general council  of Rajiv Kala Mandir and he is happy to have this college here. He called upon Ponda residents to make best use of this opportunity and to acquire the modern skills in theatre field.
Member secretary of Rajiv Kala Mandir Ms Swati Dalvi was thanked by Principal Ramrao Wagh for providing all cooperation in shifting this college.
This college has recently completed 3 years and the search for spacious campus is going on since then. Almost a year ago, the college was allotted the old PWD office complex at Rua de Ourem which is occupied by Imagine Panaji Smart City Pvt Ltd but due to some strange reasons the complex was later retained with Smart city. With renovation of kala academy the college has to be shifted so college requested to provide any other suitable site but govt expressed its inability as per information revealed by sources.
With shifting of college to Ponda from Panaji, the temporary solution is found but the big question is will it be back to Panaji either in a new complex or in the renovated Kala academy complex and when?