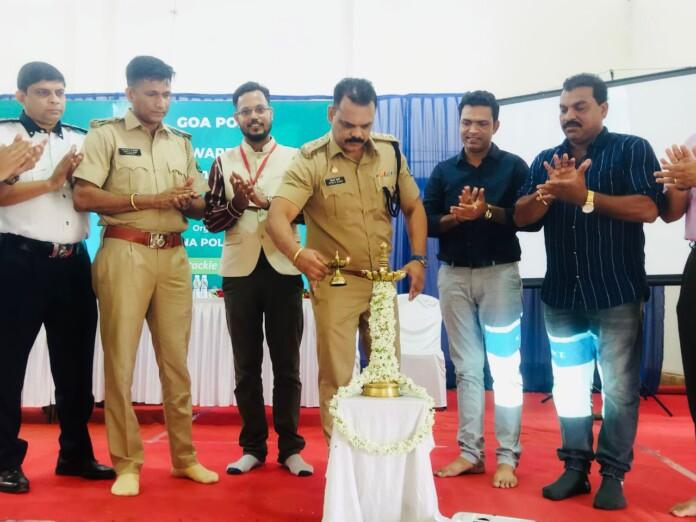 In view of international day against Drug abuse and illicit trafficking Mapusa SDPO office organised an Anti-Drug awareness campaign in which 200 students of seven schools from Anjuna Police Station Jurisdiction and staff of Anjuna Police Station along with pi Prashal Dessai and Traffic Cell Anjuna, along with SDPO Mapusa Shri. Jivba Dalvi held rally from Anjuna Police Station to Panchayat Hall Arpora.
Thereafter in Panchayat Hall a programme was organised for the students wherein Shri. Vithoba Mhalkar, Asst. Professor, Institute of Psychiatric and Human Behaviour, Bambolim and SDPO Mapusa Shri. Jivba G. Dalvi delivered lecture to the students and guided them to remain away from Drug abuse. During his talk SDPO Mapusa ShriJivba Dalvi appealed to the students to focus on their carrier and remain away from vices. He emphasised that parents are sending the students to the school and colleges with a dream of a better future and we have no rights to destroy the dreams of our parents. Further appeal was made to the students to communicate to the Professor, Teachers, Local Police Stations, Parents and other representative, if any persons found indulge in Drug supply or Drug abuse they should immediately inform them.
PI Anjuna Shri. Prashal Dessai, PI Traffic Cell Shri. Gaurish Parab, Shri. Roshan Redkar Sarpanch village Panchayat Arpora, Shri. Hanumant Naik, Sarpanch Village Panchayat Assagao, Shri. Sudesh
Parsekar Panch Member, Village Panchayat Anjuna, Shri. Dinesh Patil Panch member, village Panchayat Assagao, Shri. Amit Morajkar Panch member, Village Panchayat Marna Siolim and Staff of Anjuna Police Station also attended the said programme.
A poster drawing competition was also organised by Anjuna Police Station wherein 140 students participated and best three students are awarded 1) Leandra Barros of SFX Siolim 2) Samantha Dodamani St. Michael Convent High School Anjuna 3) Triana Muniz St. Joseph High School Arpora were awarded with cash and appreciated certificate.
Similarly awareness Programme was organised by Mapusa Police Station at Mapusa Bus Stand in coordination with Human Touch NGO's, at New Bombay Bus Stand Aldona, and other conspicuous places. PI Mapusa also delivered lectured for the NCC cadet girls at Xavier College Mapusa.
So also PI Colvale delivered a lecture to the students of Dr. Ambedkar Higher Secondary School and Mahatma Jyotirao Phule High School, Govt. Primary School Assonora, Ram Vidhya Mandir High School Colvale and rallies was conducted in schools wherein large number of students were participated.