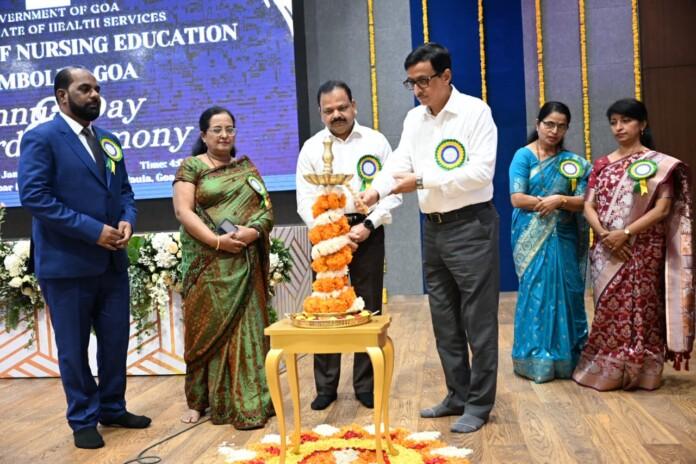 Dona Paula: Institute of Nursing Education at Bambolim held its annual program and award ceremony for the academic year 2019-20 and 2020-21 in a function held at Durbar Hall, Raj Bhavan, Dona Paula.
Dean of Goa Medical College and Hospital Dr Shivanand Bandekar was the Guest of Honour and Director of Health Services Dr Geeta Kakodkar were present as the special guest for the function. Total 51 students were given the certificates.
State Health Secretary Arun Kumar Mishra was the Chief Guest for the function.
The function began with the lighting of traditional lamp by dignitaries. Principal of Institute of Nursing Education, Bambolim Prof Dr Wilson Fernandes read the annual report on the occasion listing out various activities taken up by the institute and also the achievements.
Health Secretary Mishra appreciated the efforts of the institute in training the nurses, who are integral part of the healthcare system. He hailed that even during the COVID-19 times, the institute played a pivotal role by becoming the covid warriors.
Dr Shivanand Bandekar, Dr Geeta Kakodkar also spoke on the occasion.
The certificates for the 51 successful students from ANM, BSC and MSC programme were distributed on the occasion.
After the formal event, the entertainment programmes were held.