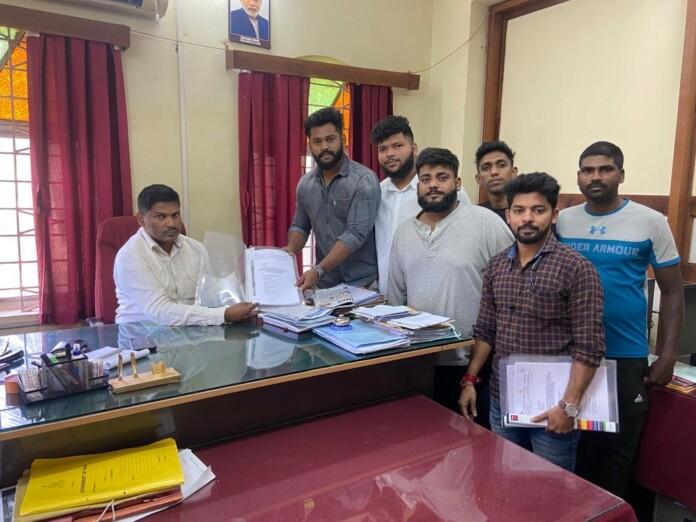 Canacona: Alleging that rampant corruption is taking place at Pollem Check Post, Vaishnav Pednekar Youth Congress Leader Canacona Congress Parivar and Jansena Warriors have reiterated their demands to install CCTVs focusing Excise, R.T.O., F.D.A and Forest departments counters.
Vaishnav Pednekar said that BJP boast of Zero Tolerance to Corruption however it is just for the sake of hoonwinking people and not serious about eradicating corruption. "If they were serious about eradicating corruption then they would have installed CCTVs at Pollem Check post," Pednekar said.
"In our memorandum submitted on August 19, 2022, we had given detailed information about how R.T.O., Excise, FDA officials posted at Polem Check Post are involved in corruption and had demanded to curb corruption, so also other illegalities," Pednekar said in fresh memorandum submitted to Chief Minister Pramod Sawant and other concerned departments.
"Daily around 70 to 100 vehicles enter Goa from different southern states via Polem check-post. But most of them go unchecked for the best reason known by the officials. If the government is serious about the health of people then it should check perishable food items entering the state and also should check if fish is formalin laced," Pednekar
demanded.
Recalling the incidents of RTO officials involved in taking bribes at Polem check-post were suspended, Pednekar
claimed that such corrupt practices are still taking place and hence the government should clobber this corruption.
He said that there are many instances where Karnataka excise seize trucks laden with illegal alcohol, which were passed through Goa check post. "How do such things happen? Is it without the blessings of these officials posted at check post," he questioned
Pednekar said that with such corrupt practices the state is losing its revenue, which needs to be fixed by taking measures.
" Because of this corruption common people are suffering and it is malign the name of our Canacona. We are now giving an ultimatum of 20th January, 2023 to the government authorities to fulfil various demands made by us, otherwise we will take appropriate steps to wipe out corruption from Polem Check Post," he said.
He has also demanded to install and operate a weighbridge at the Check Post, failing which people will show their might and only the government will be responsible whatever happens during the agitation.
Pednekar has also demanded to install and commission a proper Laboratory with transparent procedures to check the quality of Fish, Fruits, Vegetables.