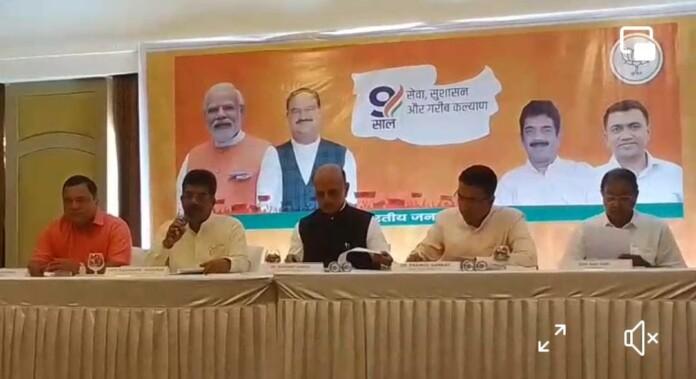 Panaji:  Union Minister Bhagwat Karad on Monday said that India is stepping ahead towards becoming a developed country under the leadership of Prime Minister Narendra Modi.
Addressing a press conference in Panaji to highlight the achievements of Modi-led government in last nine years, Karad said that the entire India is rallying behind PM Narendra Modi and they have posed faith in his leadership.
Goa chief minister Pramod Sawant, BJP Goa State President Sadanand Shet Tanavade were also present during the press conference.
Karad said that India has been developing in different sectors under the leadership of PM Modi in last nine years. He said that the world has started posing faith in India's capabilities, after Modi-led government's performance.
He said that PM Modi has been judged as "world's most popular leader" due to his qualities.
Karad said that India's capabilities were showcased in the construction of the Parliamentary building, which was inaugurated on Sunday. He pointed out that it was completed in 26 months.
He said that people across India have put their trust in the leadership of Narendra Modi.
Referring to the phase of COVID-19 pandemic, Karad said that in the past developing vaccine and then administering it, used to take years."But when COVID-19 outbreak was reported in India, the country saw the vaccine being developed in record time," said Karad, who is doctor by profession.
He said that the 220 crore doses of the vaccine were administered to the people in the country, free of cost. "It would have cost us Rs 3,000 per vaccine, if we had to buy it from abroad," Karad said.
The minister said that India took up world's biggest vaccination drive  in a phased manner.
Karad recalled how the opposition parties were criticising the vaccine itself. He said that the second and third wave in the country could be controlled only due to the vaccination.