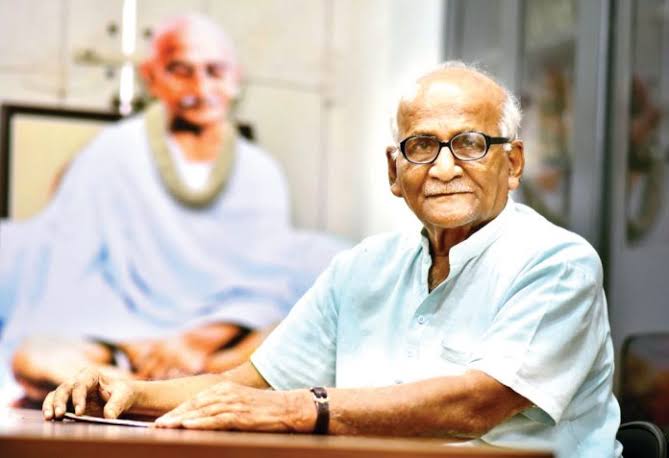 Panaji: "I have lost my ideological Guru, guide and philosopher, I am shattered today", said GPCC President Girish Chodankar while paying tributes to veteran freedom fighter, writer and social activist Gurunath Kelekar.
Recalling his very close association with Gurunathbab for the last 25 years, Chodankar said he had a significant role to play in shaping him up as a social activist and politician on the path of Gandhian and Nehruvian principles. Feel fortunate having got an opportunity to work with Kelekarbab very closely.
In spite of the huge age difference, the GPCC President said Gurunathbab never treated him as a junior but a friend, whilst in MARG movement, Nehru Centre, Konkani movement, propagating ideals of Francis Luis Gomes, formation of Civic Clubs in Schools or while working with him in several issue-based activities like cleaning up Lohia Maidan etc.
Many new things learnt from his passionate working style and idea, he focused. I used to wonder how a fresh & modern ideas & thoughts comes to his mind in his that age was very impressive. He used to think like youngsters. The best example was his passionately and consistently working to curb Road Accidents. He worked for almost three decades in this area and spread a message to avoid death in road accident.
He has gifted idea of 'SWACHCH NARAYAN' (स्वच्छ नारायण) which later was picked at national level. Through BHARAT DARSHAN he took hundreds of students to visit historic places and by arranging talks of eminent personalities in Delhi. He took initiative to imbibe in young minds to become good citizens, rather than becoming voter, by forming civic clubs. He was living encyclopedic on Gandhi-Nehru. He was compiling all works of Nehru, relating to Goa, by extracting it from the various all 100 volumes of 'Selected works of Jawaharlal Nehru'. The work remained incomplete. I will take lead in getting it published with the help of his Well-wishers.
Gurunath-bab always remained and would continue to remain an inspiration to the youngsters. He had full faith in the younger generation till his last breath. Cherishing his non-compromising attitude when it comes to principles and ideals would be a real tribute to this great man who kept fighting for all kinds of freedom till his last breath, said Chodankar.