The corona virus will be here longer seeking all the attention, adding fear and apprehensions among people, to visit hospitals even with health issues and one such issue that is always under cover is menstrual health issue that remains most challenging. Worldwide, millions of women and girls menstruate every day, many without the facilities to deal with their menstrual health safely. In India, menstruation is still considered a taboo, leaving women exposed to half-truths and tradition full of misconception and myths related to menstruation.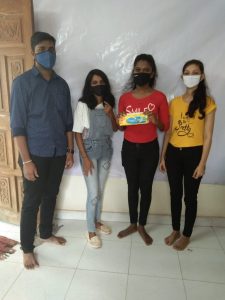 Udant NGO alongside with Dream team, a group friends-Mr.Danesh Kulkarni, Ms Nikita Pednekar, Ms Pallavi Morajkar  started a campaign "Healthy Living with Hygiene and Wholesomeness" on 20/09/2020 from 11:00 am onwards .The campaign aimed  to create awareness on  menstrual health and hygiene , removing the stigma ,shame and guilt, which are often associated with menstruation among adolescent girls.
The campaign helped over 20 girl who were provided a hygiene package .the campaign will be expanded in future towards our journey of transforming lives. Being forced to resort to unhygienic ways to due to lack of  money and come from marginalised communities where their parents are domestic workers and labour class since financial power is not enjoyed by all hence their access safe menstrual choices. 
They were made aware about the need to maintain hygiene through a video clip on menstrual health and hygiene and were give information by a small talk on how to deal with menstrual myths and misconceptions by Mrs Anita Pereira. Good health hygiene and dignity concerning their menstrual health is a right of every women said Ms. Pallavi after  the talk Further Ms Nikita added that, we want them to adopt good hygiene habits, not only with respect to menstruation – we also want to make them aware of different infection and how to avoid getting infected. We are very keen on provide these to ensure hygienic and clean environment for the girls and hope this campaign would yield expected results and positive impact in line with the objectives said Mr.Danesh as he shared his experience of a 13 year old girl who suffered from reproductive tract infection due to unhealthy menstrual hygienic which inspired him to take action to help create awareness of the same.