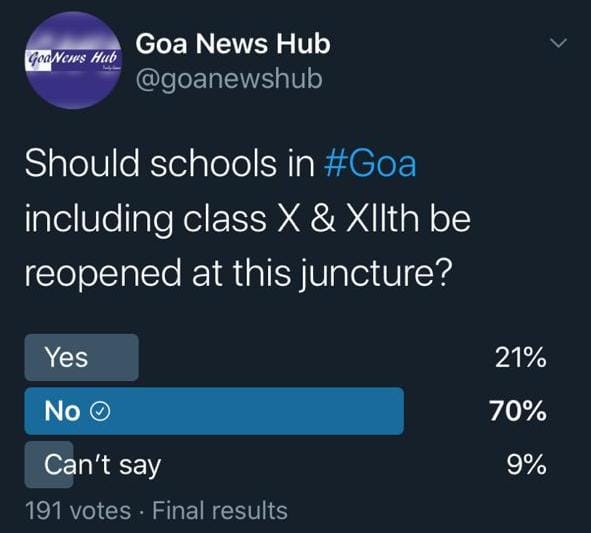 Panaji: After nod from the Central government for reopening of schools, the state government has been contemplating on whether to reopen schools or not. However, according to a recent survey conducted by Goa News Hub, it has come to light that Goans are against reopening of schools and colleges this year in view of the pandemic. Schools and colleges had been shutdown since the lockdown in March.
A Twitter vote conducted by GNH asked users whether schools in Goa reopen even for Std 10 and 12 at this juncture. Not to be surprised, 70 per cent voters said 'No' schools should not be opened, while 21 per cent said 'Yes' it should be open. 9 per cent of voters opted 'Can't Say'.
The survey results clearly states that Goans are against reopening of schools amid the pandemic as they are concerned for students. Earlier, speaking to GNH, parents and teachers had opined that schools should not open as it may lead to increase in cases. Besides, some opined that this year should be declared as zero year.
Responding to vote, twitter user Aditya Shigaonkar commented, "It would be better all the students repeated this year. Promotion to next year will be a loss to them. Let this academic year go as it is. New start be by June 2021."
Another user, Shubham Samant also denied on reopening of schools.