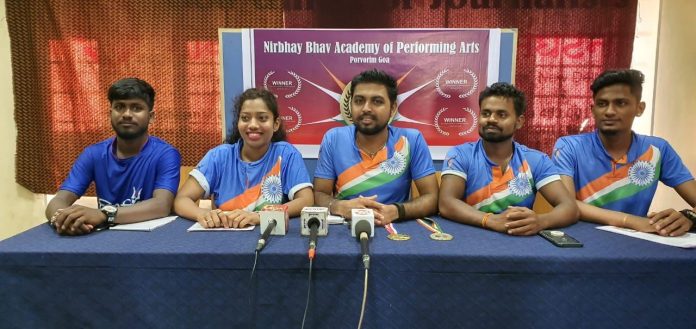 Nirbhay Bhav Academy of Performing Arts a performing group of 20 members from Goa is the only group from India won Gold Medal at Indo Nepal International Dance Sports Championship in the category of Indian Folk Dance. Representing as Team India at Kathmandu Nepal in June 2019. In Jan 2019 we Nirbhay Bhav have won gold medal All India Dance Competition held at Jammu thus qualified for International Championship.
Team Nirbhay Bhav is Now Qualified and will represent as TEAM INDIA for World Level Dance Championship which is likely to be held in 2020 Press Conference was held today 29 th Oct at GUJ Hall ,Shramshakti Hall Patto & following representatives of Team India Nirbhay Bhav addressed the press:
Sudesh Salgaonkar ,Founder & Choreographer Nirbhay BhavTeam India Swapnil Pednekar ,President Nirbhay Bhav Kashish Salgaonkar , Official Trainer Team Nirbhay Bhav Trishant Kankonkar , Lead Artist Team Nirbhay Bhav Dikshit Bhamaikar , Artist Team Nirbhay Bhav this is a Proud moment for Goa that first time in the history of Goa, any team will represent as Team India for world
Level Dance Championship.
Nirbhay Bhav (Team India) is unable to bear the financial expenses. There is no Positive Response from the leaders of Govt of Goa & Concerned departments .We do not know if we will get to represent for our country .as a part of Fund raising Team have appeal to all the Goan's & Indians for crowd funding initiative to represent for our country www.nirbhaybhav.com
Another Fund-Raising Initiative is Dance School International by Nirbhay Bhav Goa's 1st Indian Folk Multiform Dance & Fitness School Opening across Goa from 1st Nov 2019. participates trained under our school will get a platform to represent for State, National & International Platforms. This learning & Training is certified with theory & Practical Examinations of Dance as well as Fitness