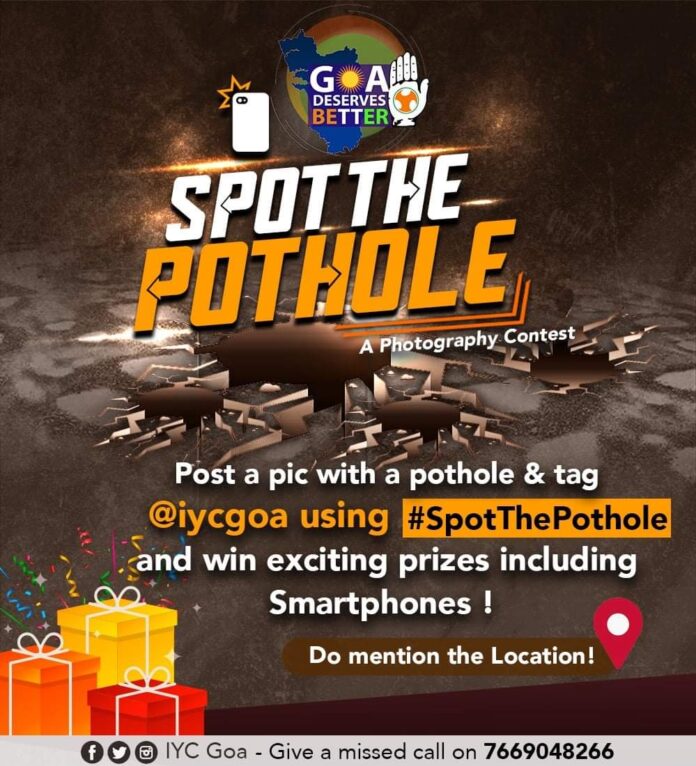 Panaji : Goa Pradesh Congress Committee President, Girish Chodankar, CLP Leader, Digambar Kamat & GPYC President, Varad Mardolkar launched the contest of spot the pothole wherein contestants have to click pictures of potholes.
Indian youth congress (IYC) Goa protested against the dilapidated condition if roads by clicking the pictures of potholes at at Nevgi Nagar, Mala Panjim today.
"In this unique photo contest, the best pictures posted by people will be awarded prizes. Goa Pradesh Youth Congress (GPYC) under its #GoaDeservesBetter campaign has started a photography contest on Social Media, the launch of it was done by GPCC President, Girish Chodankar, CLP Leader Digambar Kamat and GPYC President, Varad Mardolkar along with former CCP Mayor Uday Madkaikar, Goa Youth Congress Incharge Akhilesh Yadav, Janardhan Bhandari, Congress leaders and Youth Congress office bearers by clicking pictures of potholes at Nevgi Nagar, Mala Panjim along with a team of photographers," informed Mardolkar
To take part in the contest People of Goa need to post pictures/selfies with potholes in their area and tag @IYCGoa on its social media platforms – Facebook, Twitter, Instagram using the hashtag #SpotThePothole. They are supposed to mention the location along with tagging three friends.
The best entries shall be presented with exciting prizes such as smartphones, electronic gadgets, Bluetooth speakers and #GoaDeservesBetter T-shirts.
The last day of entries is October 14th and each winner will be felicitated by the Goa PCC office bearers in a special prize distribution ceremony to be held later.
"Pothole and craters have added the biggest discomfort to Goans and tourists alike and the Goa IYC is determined to highlight this failure of BJP Govt to the people," said Mardolkar