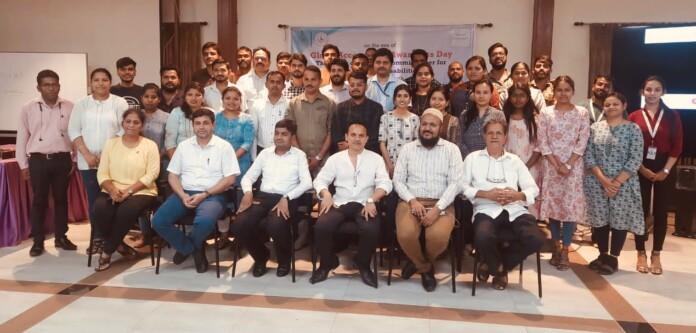 Panaji: The Goa State Commission for Persons with Disabilities, in collaboration with the Department of Information Technology, Electronics and Communications and Mission Accessibility, conducted a joint workshop to empower developers in building accessible digital ecosystems on May 17-18, 2023 at Ela Farm, Old Goa. The event was aimed at enhancing their skills in developing websites, applications, and software with a focus on digital accessibilities for Persons with Disabilities.
The training workshop emphasized the importance of universal design in creating inclusive digital experiences for all users. By incorporating universal design principles into their projects, developers can ensure that their creations are accessible and beneficial to a wide range of individuals, including persons with disabilities.
As part of the Commission's commitment to promoting accessibility, the training workshop was conducted under the banner of Global Accessibility Awareness Day, celebrated worldwide on May 18. Global Accessibility Awareness Day is celebrated on the third Thursday of May to promote digital accessibility and inclusion for people with disabilities. It aims to raise awareness about the importance of accessible technology and encourage organizations to make their digital platforms more accessible. The significance of GAAD lies in its ability to bring attention to the barriers faced by individuals with disabilities and to advocate for equal access to information and communication technology. It encourages businesses, developers, and designers to prioritize accessibility in their products and services, thus, fostering a more inclusive and equitable society.
The Office of the Commissioner for Persons with Disabilities partnered with Mission Accessibility, an organisation co-founded by Mr. Rahul Bajaj & Mr. Amar Jain. Mission Accessibility constructively engages with the developers of platforms that are inaccessible to disabled users and empowers such users to voice their concerns in a productive and practically useful fashion. Mission Accessibility's work has 3 components – sensitization, grievance redressal and capacity building. The training programme was conducted by Mr. Amar Jain, a corporate lawyer and certified accessibility professional who regularly provides consultancy and training on making websites and applications accessible for everyone including persons with disabilities.
"Disability is not a limitation; it is an opportunity for innovation and empowerment. We are committed to advocating for inclusion, breaking barriers, and creating a society where every person can realize their full potential. By working together, we can dismantle physical, societal, and attitudinal barriers that hinder the full participation of people with disabilities. Let us build a future that celebrates diversity, respect, and equal rights for all," said Guruprasad R. Pawaskar, State Commissioner for Persons with Disabilities, Goa
Pravin Volvoikar, Joint Director, Department of Information, Technology, Electronics and Communication stated that by 2024, all government websites would be made accessible for PwDs. "We have a crucial mission ahead of us— to ensure that old websites become fully accessible. It's time to rectify any existing issues and make them inclusive for all. By 2024, we aim to achieve maximum accessibility across these websites. Accessibility is an ongoing process, and we will diligently comply with the guidelines set by the Government of India." He added that the department is actively implementing the guidelines for accessibility introduced in 2016, and are actively implementing them. "We understand the importance of accessibility, and together with website developers, we will continue our efforts to create an inclusive digital space," he said.
Participants in the workshop had the opportunity to engage in hands-on training, learn about universal design guidelines, and gain practical insights into creating accessible digital products. The training initiative was conducted in collaboration with the Department of Information Technology, Electronics and Communications, recognizing the importance of incorporating accessibility into digital infrastructure and services.
Through the capacity building exercise conducted during the workshop, the participants were equipped with the knowledge and skills needed to create accessible digital experiences for everyone in the times to come. Organizations and start-ups, including NIC, ITG, Goa Electronics Limited, Enigmasoft Technologies Private Limited, Infipre IT Services OPC Pvt Ltd, IQAC Goa University, SIDCGL, DFES, GSIDC, DITE&C, and the Institute of Public Assistance (Provedoria), were among the participants who attended the two-day workshop.