Manipal Hospital Goa observed the World Cancer Day on 4th January, the function was graced by the presence of Nightingale of Goa, Ms Hema Sardesai, Cancer survivor patients were felicitated in the presence of Dr Shekhar Salkar, Chief of Oncology, Shri Manish Trivedi, Unit Head, Manipal Hospitals Goa and other dignitaries.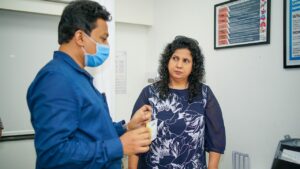 The highlight of the function was inauguration of Tobacco Cessation Clinic, Dr Shekhar Salkar explained that in an effort to help citizens quit the addiction of tobacco, Manipal Hospital along with National Organization for Tobacco Eradication (NOTE- India) has set-up a state of art cessation clinic, the center is equipped with tools like Carbon Monoxide Monitors, Cotinine Test Equipment, skilled tobacco cessation specialist shall be providing services, Dr Salkar added that the aim of the clinic is to identify tobacco users and help them in quitting, the center will be targeting at least 500 patients this year.

Dr Devdutt Sail, Secretary, NOTE-India demonstrated the various aspects of the cessation clinic, actual tests were done on volunteers to depict the scientific tools the center is equipped with to help the patients with tobacco cessation, Dr Sail explained that the center will provide the services in concurrence with the National Tobacco Control guidelines.
Ms Hema Sardesai while inaugurating the clinic, congratulated Manipal Hospital and NOTE India to have undertaken such important task and also pledged whole hearted support to the anti-tobacco campaign in the future.
The clinic is open for general public.