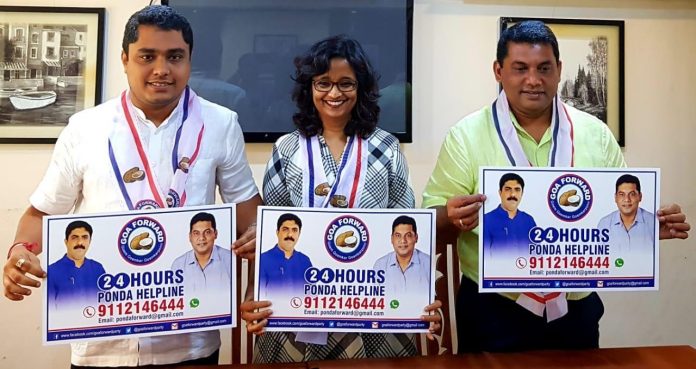 Ponda: Goa Forward today launched 24×7 helpline ( 9112146444) & email id pondaforward@gmail.com at the hands of GF Vice President Dr. Renuka Da Silva in presence of GF VP Durgadas Kamat & Ponda leader Rajesh Verenkar.   While speaking to the reporters Dr Renuka said that Goa Forward helps the Citizens  achieve their dreams . We are  Launching #Pondahelpline to help take Ponda forward said Dr Renuka .She further said that  lending a helping hand and a sympathetic ear is our motto to take Goa Forward. 
GF Vice President Durgadas Kamat said that small or big issues will be solved. Helpline is one point contact for the problem faced by the Citizens of Ponda Constituency. Kamat further said that whether we are in power or not in power, we will always serve Goemkars. Goa Forward will try to give best of the solutions to the Citizens of Ponda Constituency said Kamat.
Rajesh Verenkar while speaking during the launch said that Citizens of Curti Khandepar are facing lot of hardships due to the trucks being parked in the either side of the highway at Curti. We would try to solve this problem  after taking suggestions from the residents of the Curti Khandepar Panchayat said Rajesh Verenkar.