Panaji: With Prime Minister Narendra Modi extending the lockdown due to COVID-19 upto May 03,  the animal lovers in Goa are worried as their resources are running out to feed the stray dogs.
Several NGOs working in the field of stray canines have been going around, spotting and feeding them food as the markets and restaurants remain shut due to the lockdown which enters twenty second day on Wednesday.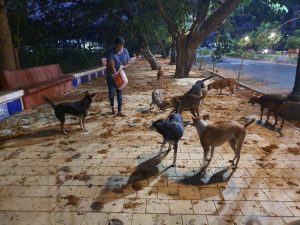 Amit Naik, a South Goa-based animal activist, who has been feeding the stray dogs regularly, has written a letter to Chief Minister Pramod Sawant urging him to allocate certain fund to the NGOs who are working in this field.
"The extended lockdown has strained the resources of animal lovers, who have been feeding stray dogs right from the first day of the lockdown," said Naik.
"I have been travelling around entire South Goa district with cooked rice to feed the stray dogs. All the available resources with me are getting exhausted including the stock of rice, which I had procured to feed these strays," he has added in the letter.
Naik said that feeding the strays has financial implications too.
"The extended lockdown is going to make things difficult.  I hope and pray that we don't see mass deaths of stray dogs on the roadside due to hunger and scorching Sun as the summer is getting at its peak," he said.
Naik has requested state government to formulate suitable scheme providing financial assistance or assign any of its body to feed these stray dogs.
Another animal lover, Fidoll Frida J Pereira  said that any difficulties faced by the feeders in getting the food for the street animals is an issue that has not been addressed.
"The NGO's who have meetings with the Animal Husbandry department, do not bother to represent the problems of individual feeders," she added.
"Since the quantity of food requirements have increased multifold, why can't state government reserve a quota of food grains for feeding animals.
Do only humans need subsidised food?," she questioned further.
Pointing out that the stray dogs are also affected due to lack of water in scorching heat, Pereira said that water cans can be placed by Panchyats or Municipalities at multiple places where the animals can easily get the access to it.
"If someone tries to steal the cans, book him for theft," she said.
Pereira said that the state government should keep an amount of food quota for the street animals and it should be distributed by the respective panchayat bodies  to individual dog feeders in need.
"Government should also sensitize the residents to give water/ left over food whenever possible," she added.
Pereira also suggested that government should start the working with all the NGOs involved in vaccination and neutering so that dog breeding control work goes unhindered, especially before the monsoons.