Sernabhatim: Ponda-based physiotherapist Dr Ketan Bhatikar along with his others rescued turtle at Sernabhatim beach, which had entangled into the fishing net.
In a facebook post, Bhatikar wrote "On Sunday afternoon, Dr Ketan Bhatikar who had ventured to the Sea for Yoga  session along with others, found one turtle entangled in their nets just off the Sernabhatim beach."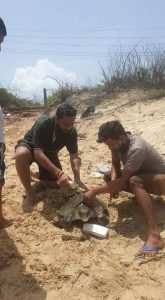 Dr Ketan and his friends safely brought the turtle ashore and helped them out of the fishing nets, later did hand over them to Drishti Lifeguards which in turn took them to handover to forest department for medical care.
Others including Shan Gurudas Kawlekar, Rajesh, Bhupesh Kamat also participated in this noble work.