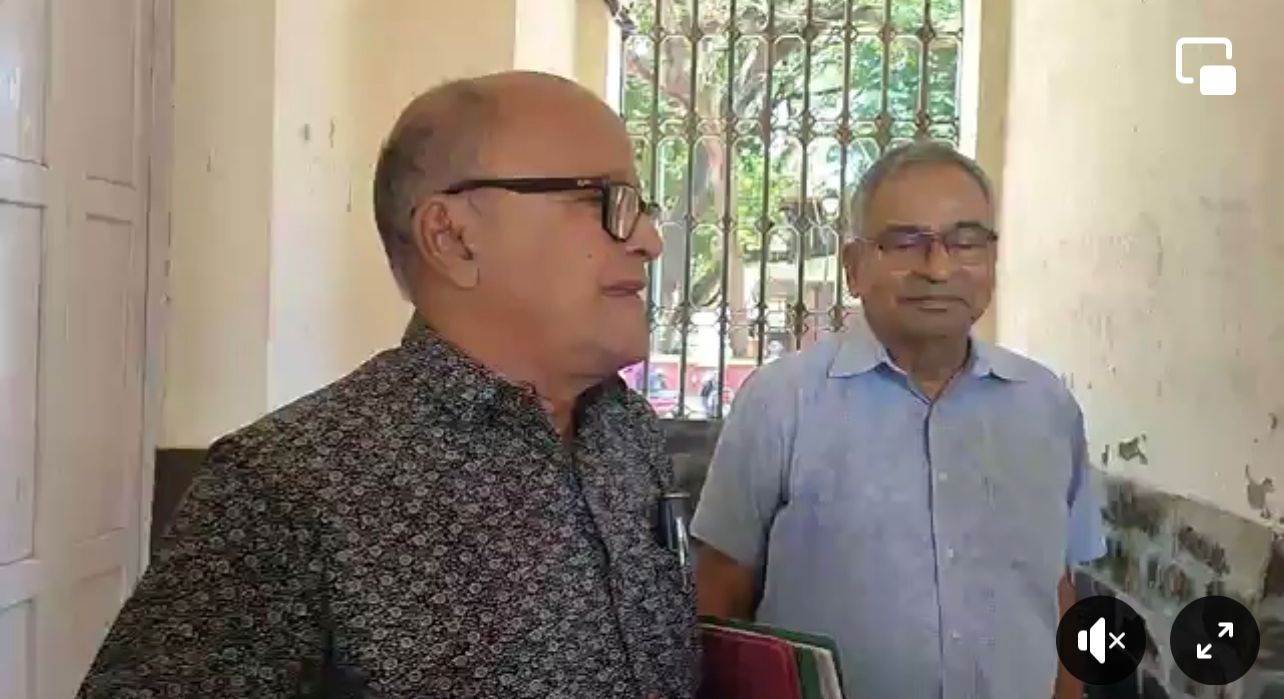 Adv. Aires Rodrigues today accompanied by Mapusa based 76 year old Rawloo Khalap currently residing in the US who has been victim of land grabbing of area admeasuring 1, 48,800 sq. mtrs at Dhargal in Pernem Taluka by Mandrem MLA Jit Arolkar met DGP Jaspal Singh the Panaji Police and submitted a representation seeking his intervention in the case as the SIT had taken no action for over two months.
In the complaint filed on 4th July, Adv. Rodrigues had pointed out that a hilly landed property known as "Kapni Voril Ghera", bearing Survey No. 481/0, admeasuring 1, 48,800.00 sq. mtrs situated at Dhargal was co-owned by Late Vaikunth Shet Khalap and Late Sadashiv Sakharam Natekar and that on the death of Vaikunth Shet Khalap his son Rawloo Vaikunth Khalap is now one of the co-owners.
Adv. Rodrigues in his complaint had stated that Jit Arolkar based on a Power of Attorney dated 24/12/2012 deceitly executed between him and legal heirs of Late Sadashiv Sakharam Natekar took over the affairs of the illegally created approx 200 plots in the property between 8/11/2013 and 14/3/2018 while illegally and fraudulently executing sale deeds with third parties and selling the entire property without the express consent of all the legal heirs of the co-owners of the property.
The complaint had also stated that despite the property being undivided and common, with no partition of land or share carried out by any authority that by devious acts of the accused Jit Arolkar the Form I & XIV now reflects a number of illegal mutation entries.
The complaint also stated that the property is depicted as orchard land on the regional development plan and till date no conversion of land sanads had been issued by any authority or any conversion proceedings conducted before Dy. Collector of Pernem or North Goa Collector.
Adv. Rodrigues in his complaint had further alleged that Jit Arolkar in gross violation of law with political patronage and funds allegedly generated through land scams has also funded and constructed tar roads illegally connecting to the village road and electricity poles also installed unlawfully while no action has been taken by the Electricity department and PWD.
Adv. Rodrigues in his complaint further drew the attention of the SIT that Jit Arolkar had also reportedly illegally created number of small plots in the adjacent property bearing Survey No. 498 and merrily in defiance of law had similarly illegally and fraudulently sold them to various parties such plots by executing similar devious sale deeds.
The complaint also stated that the entire illegality, high-handed and systematic land grabbing scam that the legal heir Rawloo Vaikunth Khalap had to endure had been brought to the notice of various government departments but due to political clout enjoyed by the Jit Arolkar no action whatsoever has been taken.
Stating that Jit Arolkar had in 2001 joined the Goa Police as a constable only to quit within less than a decade possibly after making a huge fortune on land scams which is an issue that had to be investigated by the SIT, Adv. Rodrigues along with the complaint submitted a copy of the affidavit filed by Jit Arolkar on 28th January this year before the returning officer along with his nomination papers for the Mandrem Assembly Constituency which revealed that Jit Arolkar had blatantly amassed very huge wealth beyond his known sources of income.
Adv. Rodrigues on 13th August had sent a reminder to the SP of SIT as no action was taken for over a month.