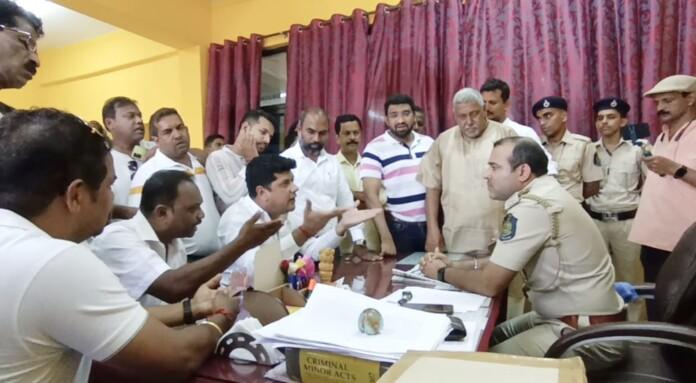 Panaji, June 20 : Congress on Tuesday demanded to register FIR against Traffic Police, PWD, Regional Transport Office and road contractor for killing one person at Sukekulan in Pernem.
Congress delegation led by GPCC President Amit Patkar and others gheraoed the police inspector of Pernem police station and questioned him why the truck driver involved in killing two wheeler rider not nabbed.
Congress has also submitted memorandum in this regard to police.
GPCC General Secretaries Vijay Bhike and Jitendra Gaonkar, District President Virendra Shirodkar, Narayan Redkar,Pradip Harmalkar,Pramesh Mayekar Pranav Parab, Sanjay Barde, Minguel Fernandes, Babuso Talkar, Ramchandra Palyekar, Francis Fernandes, Krishna Naik, Rajendra Redkar, Bernard Rodrigues, Prakash Kinalekar, Prakash Pirankar, Gloria Lobo and others were present.
Patkar said that one Namdev Kambli succumbed to death due to the brutal accident caused by the Heavy commercial Truck plying for Ashoka Buildcon, while carrying out road construction.
"Police has admitted that there is no police verification of this driver, who fled from the spot and police are unavailable to track him," Patkar said.
"People are dying due to negligence of the contractors, traffic police and Regional Transport Office. FIRs should be lodged against them," Patkar demanded.
"I want to ask Chief Minister why offense is not registered against contractor and government officers," he said.
Vijay Bhike said that FIR against the locals, who protested on the accident site, should be withdrawn. "Many accidents are taking place. Traffic police are not taking action against road contractor who fail to take measures on the sites," he said.
He said that FIRs are also filed against those, who were not present at the site and were out of the station. "It seems MLA is taking revenge on the people," he said.
Virendra Shirodkar said that the Traffic Department has also failed to provide proper Infrastructure on Roads such as Signages, Traffic Signals, and other Gadgets to facilitate smooth and safe movement of Vehicles.