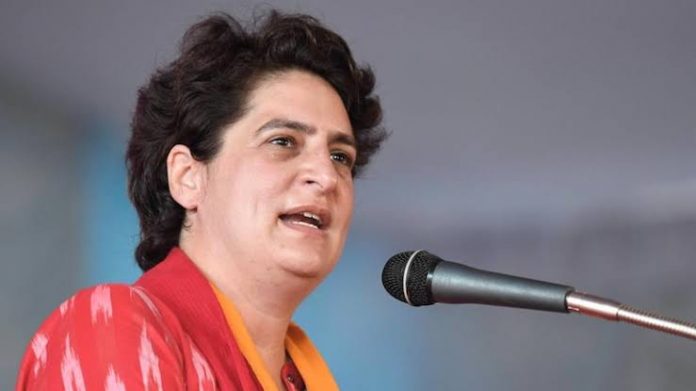 Panaji: Congress general secretary Priyanka Gandhi on Friday termed Bharatiya Janata Party as anti-women while announcing that her party will fight to empower the women after being voted to power .
Gandhi was addressing women's convention in Margao on Friday during his day long tour to the coastal state.
"BJP's ideology is basically that of anti-women. Their ideology will never like that a woman would be empowered," she said.
Gandhi said that the BJP offers schemes which makes women dependent on them, and not "self dependent." "BJP thinks that after giving a gas cylinder free or some cash, they have done their job as a government. But what they are doing is making women dependent and not independent," she commented.
Gandhi said that the women of the country have now realized that the time has come to speak up. "That is why we have coined a slogan of Mai Nari Hun, Mai Lad Sakti Hun."
She said that 95 per cent of the cases (of crime against women) are pending in the courts and they are not heard. Gandhi said that when there is crime against women (in Goa), the chief minister asks what were you doing on the beach till so late.
"Their (BJP) leaders are asking why are you wearing such kind of dress," she said adding that it is the responsibility of the government that atrocities against women should be stopped.
"There should be action against criminals, FIR should be booked, criminals should be put behind the bar," she said.
"I have noticed that wherever there is BJP government, the criminal is given protection while victim is questioned," Gandhi added.
Talking about financial independence, Gandhi said that the Congress party would be providing a grant up to Rs one lakh for each of the Self Help Groups besides the initial funding so that their business flourishes. She said that the government will help in marketing the products which are produced by the Self Help Groups.
Gandhi said that the Congress party during its tenure in Goa has always taken the decision respecting people's sentiments. She said that when people did not wanted, the Congress government had denotified ten Special Economic Zones.
"The government worked for you. It did not work for any industrialist," she said.
Gandhi appealed the women to vote wise during the upcoming election as they will not be voting for any party or individual but it would be to save Goa. "Save Goa and keep it safe. You understand the culture here," she said.