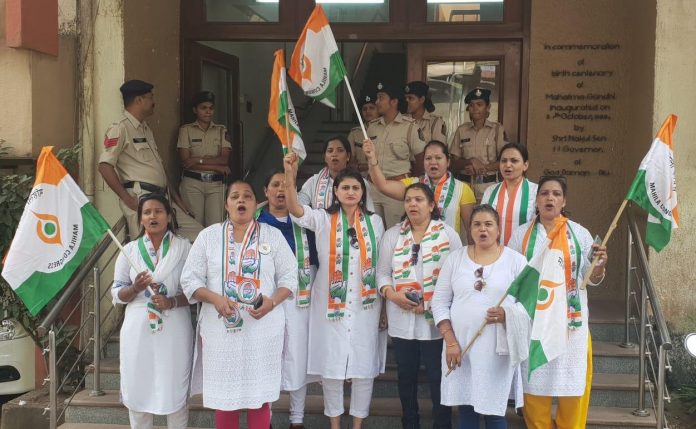 Panaji: Goa Pradesh Mahila Congress Committee today laid scathing attack on PWD Minister Sudin Dhavalikar for his failure to provide proper infrastructure in the State. Mahila Congress President Pratima Coutinho also raised the demand of "pothole sentinel" in the State on lines with "Traffic Sentinel" to highlight the pothole ridden roads.
Mahila Congress workers led by Coutinho today took on morcha on the office of PWD at Altinho to highlight the pressing issues faced by common people.
Coutinho demanded that instead of Traffic Sentinel, the stress should be given to Pothole sentinel so that the poor condition of the roads in the State would be highlighted.
Taking on Dhavalikar, the Congress leader told reporters after meeting PWD officers that the department has  given permissions to lay optical fibres without taking  any permission from them.
"This is an act of corruption as the bribe is accepted to allow this. These companies are busy digging roads right from Pernem to Canacona," she said.
"CM Manohar Parrikar had given lollipop to all the MLAs stating that they would be given Rs 25 crore each for development of their constituency,"Coutinho said.
"The promises are left unfulfilled and the balloon of fake promises is going to burst anytime because of which the bridge was inaugurated in a hurry," she said.
"The basic infrastructure which was promised by the government is yet to be taken up. I appreciate construction of third Mandovi bridge but the condition below the bridge is worst," she said.
"The road is left bumpy. What was the hurry to inaugurate? Were you all were scared that the government would be toppled and they wont get chance to inaugurate it?," Coutinho questioned.
"Dhavalikar and Govind Gawade are busy fighting in public. The ministers are fighting and people are dying on the road," she said.