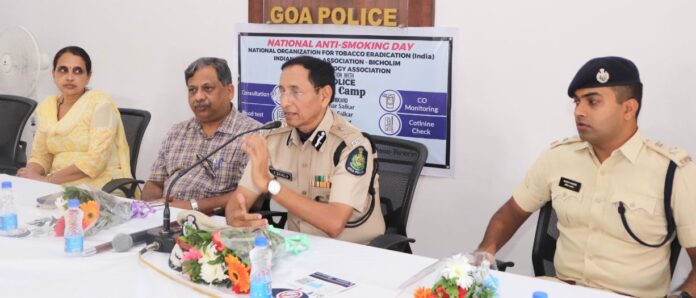 Panaji: National Organization for Tobacco Eradication ( NOTE-India), Indian Medical Association (IMA) Bicholim, GOKARMA Oncology Association in collaboration with Goa police organized a medical camp for staff of North Goa Police department.
The program was presided by Shri Indradev Shukla, DGP, IPS, Shri Shobit Saxena, SP North, Dr Shekhar Salkar, Dr Medha Salkar, officers and staff of porvorim police station.
Shri Indradev Shukla, DGP encouraged all participants to stay away from addictions like tobacco and alcohol as it has a detrimental effect on health and mental well-being, Shri Sukhla while emphasizing the need of a comprehensive survey in the force, welcomed the initiative of conducting such camps and assured that entire police department will be sensitized about the ill effect of tobacco in the future by undertaking such initiatives.
Dr Shekhar Salkar explained all participants about tobacco control programs and ill effects of smoking and urged the staff addicted to tobacco to come and seek professional help in Deaddiction at tobacco cessation clinic.Dr Salkar mentioned that Cigarette are gateway to drugs and to control the menance of drugs and substance abuse it is essential to curb smoking.
The program was conducted In adherence to the covid protocols, and was attended by 52 staff of Porvorim Police Station, the participants availed the benifit of Blood Glucose test, Carbon monoxide monitoring, Cotinine test and consultation by doctor shekhar salkar, dr Eugene rent, dr medha salkar and dr Devdutt sail. They were assisted by Shri Ashfac and Mr Patil.