Agassaim: As one approaches Zuari Bridge from Panaji side in the evening, a sight of hundreds of stars lined up along the roadside takes your attention.
Anthony de Agassaim is known for his penchant of putting up several hundred stars near his house. How many of them? Annually, he announces a competition. Anyone who can count exact number of stars can win a cash prize.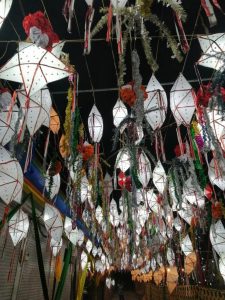 A board prominently put up near his house reads "Anthony de Agassaim begins to make cane stars from 15th September to 15th December every year with the support of his wife Sucorin."
Anthony has been featured in various magazines and newspapers. www.goanewshub.com salutes this Goan, who has been nurturing this unique hobby.