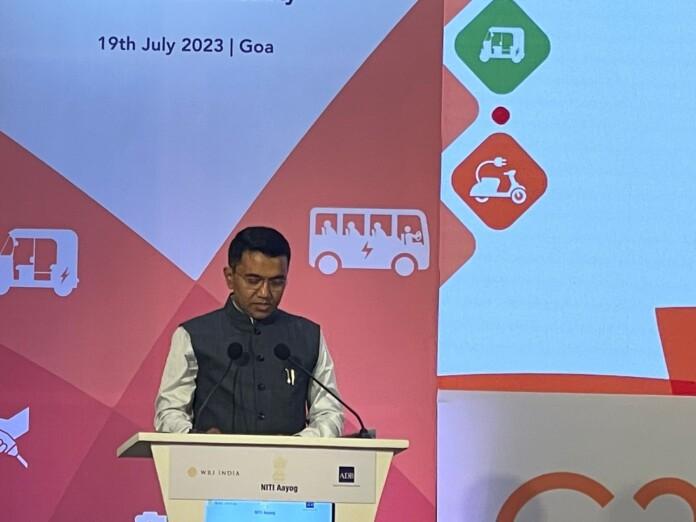 Panaji: All the new tourist vehicles, rent-a-cab and rent-a-bikes in Goa shall be electric vehicles from January 2024, Chief minister Pramod Sawant said on Wednesday.
Addressing a side-event organised by NITI Ayog during ongoing fourth Energy Transitions Working Group meeting in Panaji, Sawant announced that the state government proposes major reforms to promote EV in the state of Goa.
India's G20 Sherpa Amitabh Kant was also present for the side event.
The chief minister said that it will be made mandatory that all the new tourist vehicles, rent-a-cab and rent-a-bike shall be EV from January, 2024.
In yet another announcement, the chief minister said that the new vehicles purchased by the government from January 2024 will mandatorily be EVs. "It will also be  mandatory for permit holders having multiple tourist taxis, rent a bike and rent a cab operator to retrofit 30 per cent of the fleet to EV by June, 2024," Sawant said.
The chief minister said that  the per capita vehicle ownership in Goa is 4.5 times the National Average.
"Goa is ranked 15th in the World in terms of vehicle density. Being a Global tourism hotspot, more than 85 Lakhs tourist visit the State each year against the State's population of 15 Lakhs," he said.
"This forms a major contributor for increased carbon emissions in the State due to large number of taxis, rent a vehicle and buses used to commute the tourist," he added.
The chief minister said that as per the recent study, 40 per cent of total carbon emission generated in Goa are due to the operation of the vehicles.
Sawant said that the State Government has provided Financial Assistance for 1,679 vehicles amounting to Rs. 122 million under the Scheme.
"Subsequent to the introduction of the scheme, the percentage sales of vehicle have increased exponentially from 0.2 per cent to 9.4 per cent in 2022-23," he said.
Goa ranks 4th in India in terms of percentage of EV purchased in any State, Sawant added.