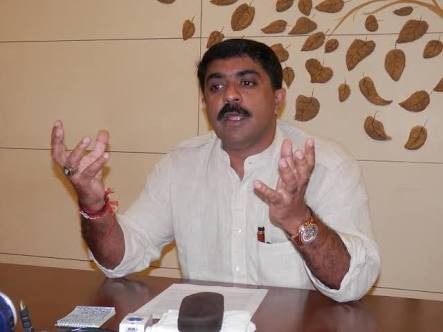 Porvorim: After PWD Minister Sudin Dhavalikar's purposeful delay in processing the work for New Bus Stand at Margao,  Goa Forward Party Chief and TCP Minister Vijai Sardesai gave his piece of mind to the minister in presence of Chief Minister Manohar Parrikar.
Sources stated that Sardesai questioned Dhavalikar's action on the issue and also asked him to expedite the process. The TCP minister was very asserting in presence of Parrikar, which was witnessed even by other members of the committee on Monday.
The outspoken minister told reporters that "Dilen Taka Sarkhen" when asked about his arguments with Dhavalikar on Margao Bus Stand issue.
When asked about reporters, Sardesai said that he wants the Bus Stand to be completed as soon as possible.
"The bus stand as been delaying for so long. I want it to be completed soon," Sardesai said before uttering "Dilen Taka Sarkhen."
It is important to note that Dhavalikar has been delaying the project which is very close to the heart of the people of South Goa. Despite being in Parrikar led alliance, Dhavalikar seems to be playing at the hands of Congress party and getting closer every passing day.