Ahead of the upcoming assembly elections in the state, the Aam Adami Party has started intensifying its door-to-door campaign and the party has been receiving good responses from the people.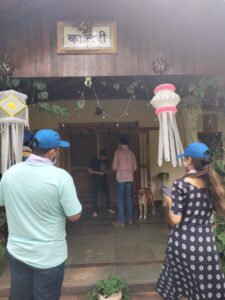 The AAP had launched its door to door campaign in Velim and now the party covered St. Cruz constituency under the leadership of AAP leader Adv. Amit Palekar and Ponda under the leadership of AAP vice president Adv. Surel Tilve.
AAP leader Amit Palekar said, we have received good responses from the people of St. Cruz. They believe the AAP is the only party who will keep their promises, which AAP has made to the Goans. People have been voting for the BJP and Congress for several years. I urge people to give a chance to AAP this election and witness the change.''
Palekar covered around 150 houses during the campaign and gifted sports equipment. He said, "BJP and Congress have been working for self-development. There is a dire need for corruption-free governance and only AAP can provide that''.
Surel Tilve, AAP vice president said, ''the Ponda people have been facing so many issues like parking issues, bad conditions of the roads and improper waste management for several years. But, these issues are ignored. Citizens have been paying the taxes but they never benefited from that money. If AAP comes to power, the party's aim will be to serve common man rather than serving the corporates''.
AAP leaders along with its ground team have been reaching out to every person in every constituency trying to find out the issues. When BJP was busy doing corruption in the Covid times and Congress was nowhere, only the AAP with the help of its ground team helped the Goans and provided oxymeters and other medicines.