The 8th Annual lecture of Goa Cancer Society was held on 21st April 2023 @ International centre Dona Paula Goa.
Dr Anita Borges world renowned Cancer Pathologist delivered a lecture on "Cancer Continuous Conundrum" to a packed hall.
She also discussed difficult cases & interacted with the august audience. Mr Shrinivas Dempo President of GCS in his welcome address informed about activities of GCS in financial help to cancer patients,
Reasearch grant to the tune of 5 lacs per year, dr sharad vaidya cancer package at manipal hospital, cancer detection camps and financial help to Dilasa palliative care centre and yearly lectures.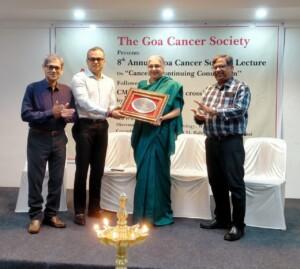 Dr Mahesh Naik secretary of GCS had organised this lecture with the help of the members of the executive committee – Dr Suresh Shetye, Dr Shekhar Salkar, Dr Deepak Murthy, Dr Pramod Salgaonkar, Mr Sandeep Naik,Mr Maganlal & Dr Sitakant Ghanekar. And staff of Manipal Hospital Goa. We thank Dr Francisco Couto for his help.