It's about a week since our Dr CM announced Zero Mortality but 8 to 10 precious Goan lives are still being lost on daily basis.
Making such Political Announcements for political mileage and moving on to the next opportunity for Corruption won't suffice. A responsible Head of State and Health Minister should have come up with concrete plans of action before making such announcements because a pandemic is not the stage for political games, we cannot afford to play politics with Corona and death.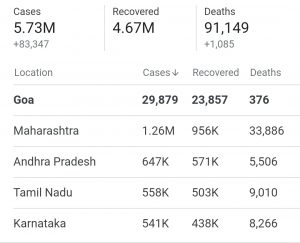 Now with the CM himself admitting that all the Covid beds in GMC & Ponda are occupied, does he have an alternative for giving hospital treatment to the ever-growing number of Covid patients? Is this the way he's going to bring in Zero Mortality?
The very fact that the PM Modiji has asked the state's to take decision on local lockdowns signifies the gravity of the situation and its time Goa Government takes a prudent decision on the subject in consultation with Health Specialists and all the Elected Representatives.
I have been stressing on the need for increased testing, transparency of facts and figures, involvement of a Chain Management from the CMOs to the Panchayats and Local Self Help Groups etc. All this was always ignored. Now the PM of India has highlighted the same things and I hope Dr Pramod Sawant would act on the suggestions of Elected Representatives in the interest of Goan lives.
Goa is too small a state but with a higher population density and thus qualifies in total for a Micro Containment zone demographically.
Secondly , it's time the CM admits that Goa is the worst hit and the situation warrants foolproof prevention measures so that no more precious Goans lives are lost to Covid.
I would also stress that if a lockdown is the only solution then ample time should be given for preparedness so as to overcome the mistakes of the first lockdown. This is not the time for vague political statements but a time for scientific approach to curb the everyday ghastly figures of deaths. It's time for taking a United Stand Against Covid involving everyone.