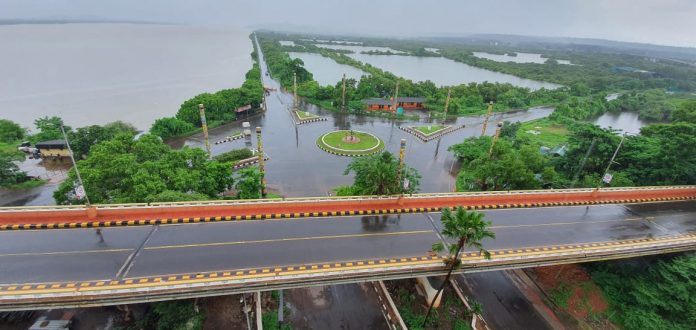 Panaji: Recording the highest monsoon rainfall in a century, the monsoon season finally ended on Wednesday with Goa recording 41 per cent surplus rainfall in the past four months.
Surpassing the average seasonal rainfall of 117.14 inches (2975.6mm), the State broke its six decade by recording 165.5 inches ( 4203.7 mm) as on September 30, the last day of the season. Before this, as per available data, the highest seasonal total was 4097.7mm which was recorded in 1961.
However, the Indian Meteorological Department (IMD) Goa has predicted light rain and  thundershowers at some isolated places in the coming days.
IMD Goa scientist Rahul M informed that not just Goa but other states and union territories also received more than normal rainfall. "This season of monsoon was different from previous seasons by not only recording the highest seasonal rainfall total as per records but also by the consistency of rainfall in all four months of south west monsoon season," Rahul added.
The onset of monsoon over Goa which was delayed till June 11 from its normal date of June 5, the South-West monsoon touched the _100 inch mark of rain within 66 days of the season, the second fastest since 2013._
"June and July recorded 15 per cent and 17 per cent, respectively, above normal rainfall for the month, mainly due to cyclone Nisarga and other monsoon enhancing systems formed over the Arabian Sea and circulations over the Konkan Belt," Rahul explained.
September recorded 29.7 inches of rain, while June recorded 40.6 inches,  July that recorded above 49.1 inches and August recorded 46.1 inches.