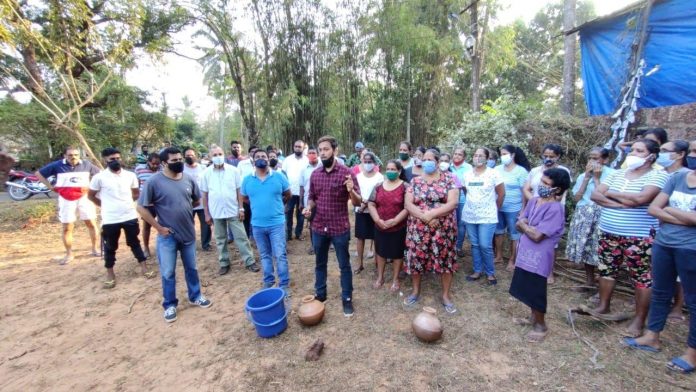 Benaulim: In a meeting called by Aam Admi Party, around 50 villagers gathered at the Perodem ground with empty pots and buckets and to protest against the government inaction they broke the pots.
AAP Benaulim leader Capt Venzy Viegas urged the villagers to remain united and laughed at the Bharatiya Janata Party government's Har Ghar Jal Yojana announced by Prime Minister Narendra Modi. "What is the point of having a pipeline if there is no water in the pipes at all," he asked highlighting the problem faced by the people gathered.
Residents of Odlem Bhat and Acsona in Benaulim village on Monday decided to present a memorandum to chief minister Dr Pramod Sawant regarding their water problem stating that the local MLA Churchill Alemao has neglected the problem for over a year now.
Newly elected Zilla Panchayat Member Hanzel Fernandes who is an engineer by training suggested that as an immediate measure the authorities be asked to install valves at different places on the line providing water to the households from the main line.
"As this area is on a slope the water tends to rush to the last which is the lowest point first and hence it would be better if we have valves in between to stop the water from rushing down and release there only after the higher placed houses get the supply," he suggested.
As the villagers were demanding that an entire new pipeline be laid, it was decided to take up that issue too and accordingly on 5th January 2021 a letter addressed to the PWD authorities will be submitted with copies marked to the chief minister and also the local MLA.
The villagers demanded that the water problem be resolved before Easter and said they cannot wait for another Christmas where they have to prepare their Christmas sweets with bottled water. Luiza Ferrao a local lady said they are forced to use water from the wells which is tiresome and wondered by the water pipelines are laid.
Diogo Fernandes pointed out that for quite some years they are not receiving piped water and added that the problem seems to occur most during festive and particularly Christmas season. Some of the villagers alleged that water meant for the villagers is diverted to the Star Hotels for whom a separate pipelines with broad pipes is laid.
The villagers which rejecting the authorities suggestion that they erect an overhead water storage tank asked the government to construct a tank to store water for the villagers instead just like the tank that is being constructed at neighbouring Varca.
While Hanzel said he would come to the ward to collect their signatures on the letter within two days Capt Venzy said AAP will work out the modalities of submitting the copy to the chief minister and asserted he is the next person to be contacted as the local MLA has remained unresponsive.