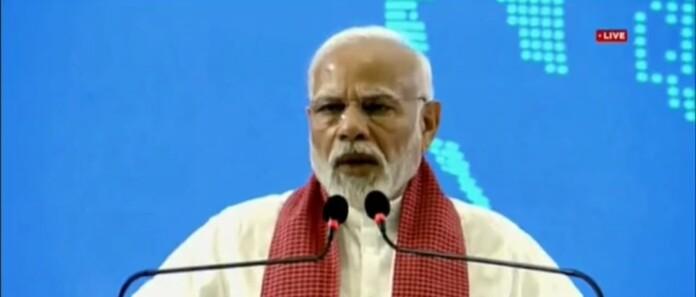 Panaji: Prime Minister Narendra Modi on Sunday said that the country has witnessed seven fold rise in the AYUSH economy during last eight years, while there are immensely more possibilities to explore it further.
Modi was speaking during the concluding function of 9th World Ayurveda Congress at Campal in Panaji on Sunday, during his half-day-long visit to the coastal state.
Modi said that eight years back (when he took over), the AYUSH economy was Rs 20,000 crore which has touched a mark of Rs 1.5 lakh crore currently opening up more opportunities in the sector.
He said that there are immense possibilities in AYUSH sector including working on the Start Ups. "The biggest strength of AYUSH economy is that everyone has got the opportunities in it," he said adding that there are 40,000 MSMEs in the AYUSH sector in the country.
The Prime Minister announced that the country will have National AYUSH Research Consortium soon. He said that the union government has already started Research Portal for evidence based data in AYUSH. "During COVID19 pandemic, there were 150 studies conducted in the AYUSH sector," he said.
Modi said that the modern science believes in data-based evidences and it is time for the Ayurveda to have documentation of the data based evidences.
"We will have to work towards creating data-based evidences for AYUSH which is mandatory in the modern science," he said appealing the researchers to verify the medical data, research and journals based on the modern science requirement.