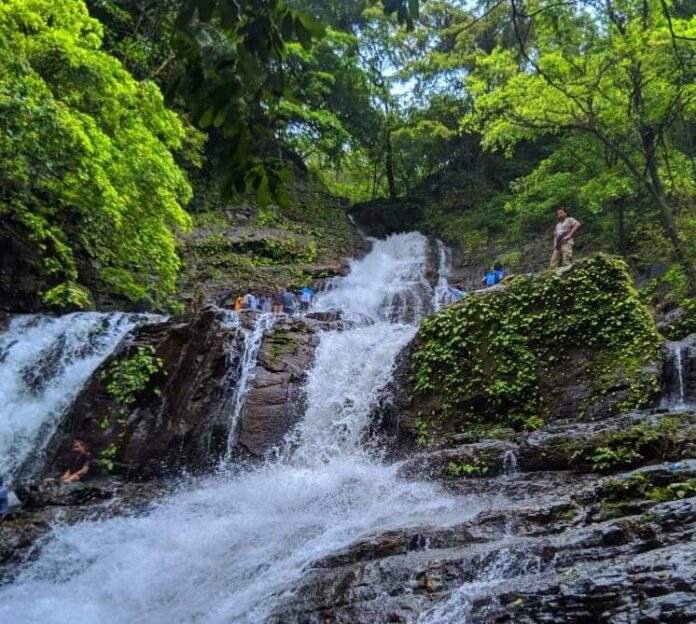 Sattari:The beautiful waterfalls of Sattari and prestine places are gradually turning dangerous for Sattari people and their families, due to alcohol, plastic and nuisance, say locals.
In Sattari, there are around 13 plus mesmerizing  waterfalls, they are Saleli, Keri, Morlem, Kopardem, Pali, Charavanem, Hivrem, Surla, Nanoda, Sirguli, Bambar, Satrem, Brahmakarmali, Shelpe, Chorla Ghat, Dabem and many others. All this waterfalls charge up during monsoons.
And all this waterfalls are located in Mhadei wildlife sanctuary. In monsoon every weekend almost thousands plus picnickers and trekkers are visiting these waterfalls.
This monsoon there is total banned on visiting the waterfalls, due to the covid 19 pandemic and the ban putted by the Deputy Collector of Valpoi, but still people are visiting on waterfalls and creating  nuisance, say villagers.
Once upon a time, people were unaware about the scenic beauty and serene environment of Sattari. For the last one decade onward the picnickers and trekkers has started visiting on waterfalls in large numbers.
Now the picnickers and trekkers are throwing plastic,  plastic bottles every where in forest area, breaking alcohol bottles all over waterfalls places and making a general nuisance.
All the panchayat members and villagers have complained and urged the concern authorities to take the very strict action on people who are visiting on waterfalls and making nuisance in this pandemic times.
Also the locals have informed and demand to the Valpoi police station that to depute the police personnel on every waterfalls of Sattari and not allow the outsiders to visit on waterfalls.