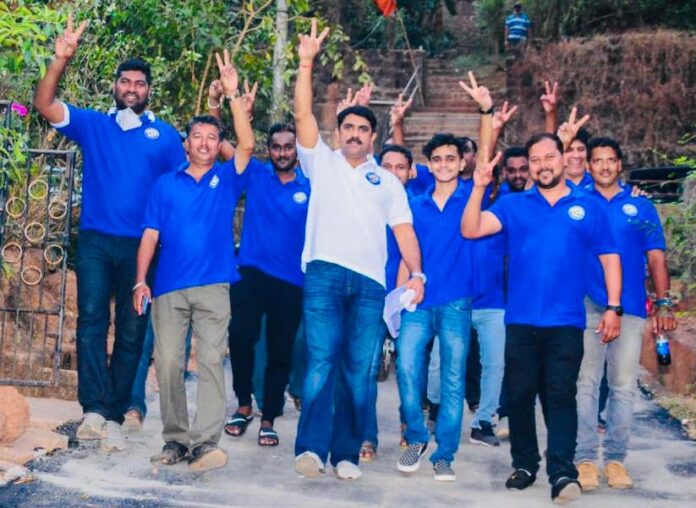 Fatorda MLA and Goa Forward President Vijai Sardesai and his team of Fatorda Forward supporters, all in smart characteristic blue GF shirts, moved enthusiastically through every nook and corner of Ward No. 9 canvassing for their candidate Ravindra 'Raju' Naik.
Raju Naik is a staunch worker of the Goa Forward party in Fatorda and is contesting from the seat of ex chairperson of the MMC Pooja Naik. Pooja too was seen canvassing along with Raju in the ward.
"Raju is our go-to guy in Marlem. He has helped us immensely during the Covid19 pandemic and is always available to lend a helping hand. I wish him all the best and I am confident he will be victorious as no other candidate has worked for our ward more than Raju" said Ajit Gaonkar a resident of Ward No. 9.
"Garbage management that was implemented by the Fatorda Forward led MMC in their previous tenure was meticulously planned and implemented. The credit needs to go to Raju for having monitored the system and having overcome all the hitches in our ward and making Ward No. 9 a model for the door to door garbage collection." said Santan Fernandes, another resident.
"We should also thank our Fatorda MLA for getting the entire network of roads re-surfaced with a fresh coat of hot mix this year, and we the residents of Ward No. 9 appreciate the efforts of Raju who tirelessly braved the heat and supervised the work every day and ensured that all our requests were heard and attended to. Raju has been working selflessly during the last five years even when he couldn't contest the election as the ward was reserved for women. He never neglected even the minor issues of the ward. We would also like to thank our MLA Vijai Sardesai for having nominated him as a candidate in our ward" said Sonali Naik, a resident.
"For me the happiness of the residents is what matters the most. Fulfilling the requests and helping the residents of my ward is what public service is all about. We, the councillors, are the hands and legs of our MLA. If we play our role in ensuring that people's issues that can be solved at the ward level are solved locally, it makes for better management and efficient service. This paves the way for a Fatorda that is Future Ready" said Raju.
"I want to thank our MLA Vijai Sardesai for having nominated me as a candidate in Ward No. 9. He has always given me his support and encouragement to get work done in my ward. I would like to also thank former chairperson Pooja Naik for her support, and also all the residents of the ward for the wholehearted backing I have received during my door to door campaigning. I promise to continue the work I have been doing for the past many years with more ardour and devotion" said Ravindra 'Raju' Naik.