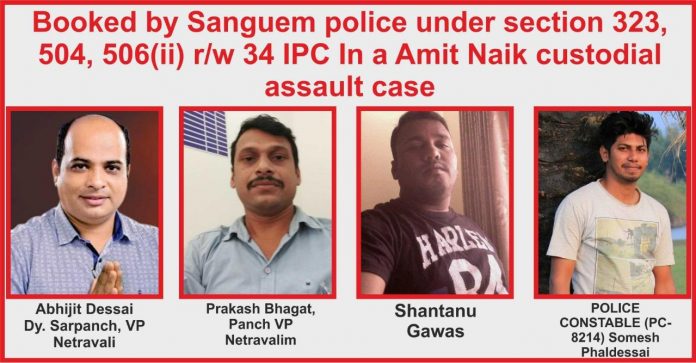 Sanguem: Police have booked a police constable, a politician and two others for assaulting a man in the police custody.
The incident happened in March this year when Amit Naik, who was issued non bailable summons by a Pune court in connection with a financial dealing, was arrested by police in Sanguem village, 80 kms away from here.
Wife of Amit, Rakhi Prabhudesai Naik, had alleged that her husband was beaten up in police custody by a constable Somesh Phaldesai and others including Deputy Sarpanch of village Abhijit Desai, panchayat member Prakash Bhagat and another person Ulhas Gawas.
A senior police official said that case has been booked against them for assaulting Amit Naik in police custody.
The issue was initially raised by Shiv Sena in Goa with party's State President Jitesh Kamat submitting memorandum to Director General of Police Muktesh Chandar seeking investigation into the custodial assault.
Police had held preliminary inquiry into the incident which had confirmed the assault. Inquiry officer Sunita Sawant, who is Deputy Superintendent of Police, had indicted the constable and others in the incident.
"There appears well planned conspiracy to physically and socially harm Amit Naik by the accused since they were exposed by Rakhi Naik of their involvement in illegal activities and they were waiting for an opportunity to put into action their conspiracy," reads the report submitted by Sawant to her seniors.
The report also mentions that using their social status, the accused also saw that at the police station, the victim was humiliated.
Addressing a press conference, Rakhi Prabhudesai Naik thanked Superitendent of Police (South) Arvind Gawas, DySP Sawant and other police officers for booking the culprits.
She has demanded that constable should be suspended from services pending inquiry.