Today evening Pernem Police staff held a surprise combing operation at all areas of Arambol.
PI Dalvi informed that this combing operation was done in order to check for migrants and foreigners staying illegally and give a warning to all the persons who rent out thier premises and to all the commercial establishments.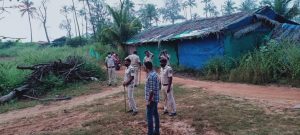 During this search operation a total of 50 persons were checked. Also thorough checking was carried out to see if any illegal activities are being carried out.
PI Dalvi informed that in the coming day such combing operations will be carried out in other coastal areas to maintain law and order.