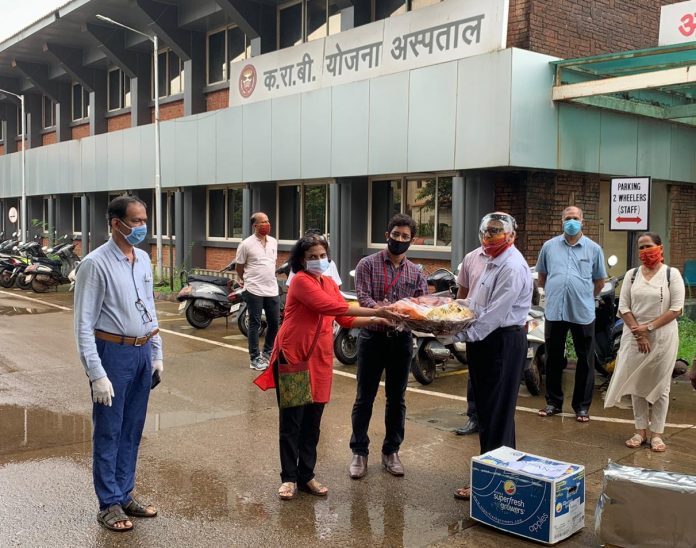 Margao: Democracy is governed by the people. Peoples power is supreme in democratic setup. Dictatorial and Authoritarian governance don't work for long. Goans, Indians and the World have seen the fate of people with dictatorial attitude and style of functioning. BJP has not learnt lessons from Chattisgarh, Madhya Pradesh and Rajasthan. The realization and turnaround has begun in Manipur. The change is happening stated Leader of Opposition Digambar Kamat.
He was speaking at the "Food Kit Distribution" programme organized by Goa Pradesh Congress Committee at the ESI Hospital, Margao which is designated as Covid Hospital to mark 50th Birthday of former Congress President and National Leader Rahul Gandhi. GPCC President Girish Chodankar, Vice President Altinho Gomes, Local Councillors Dorris Teixeira, Manoj Masurkar, Avinash Shirodkar, Damodar Naik, Deepa Shirodkar, Margao Block Congress President Gopal Naik, GPCC Secretary Damodar Shirodkar, James Andrade, Averson Valis and others were also present during the programme.
The Food Kits were handed over to Dr. Ira Almeida and Dr. Vishawajit Phaldessai by CLP Leader Digambar Kamat. All observed two minutes silence paying tributes to the soldiers who sacrificed their lives on India-China border four days back.
When the leadership fails to develop its own cadre, the party tries to break other parties and import workers and leaders. This is the exact situation of the BJP in Goa and elsewhere in the Country. BJP has now crossed all its limits of grabbing power with the help of Jumla Politics. Congress Party has always remained sensitive towards issues of common man and hence, today we are celebrating Rahul Gandhi's Birthday with Service to Humanity, Digambar Kamat stated.
The BJP government in Goa has completely failed to protect the interest of the common man & are busy looting the State Coffers even during the time of Covid Pandemic. Today, the Congress Party has organized various programmes benefiting the people. BJP has nothing to do with the hardships of the people in the Country and in Goa. Their ultimate focus is grabbing power through unethical and undemocratic manner. They are obsessed with Election Phobia at all times and hence, remain in celebrations mood throughout the year. It is most unfortunate that the BJP Party is busy organizing Virtual Rallies when our Soldiers are martyred protecting our borders and people suffering due to Covid lockdown and economic crisis stated GPCC President Girish Chodankar while speaking on the occasion.
I want to remind the BJP leadership that our leaders have always shown sensitivity towards public sentiments and emotions. Our CLP leader Digambar Kamat called off his Birthday celebrations on 8th March 2020 due to Corona crisis and betrayal of Goans by BJP on Mhadei issue Girish Chodankar reminded.
The Congress leaders prayed for good health of all including the Covid Positive patients, Medical Fraternity and Health workers and their families.
GPCC Vice President Altinho Gomes welcomed all those who were prssent. GPCC Secretary Damodar Shirodkar thanked the Doctors and Medical Staff for their noble service at Covid Hospital.