Panaji: District Magistrate has notified pay parking in the jurisdiction of Corporation of City of Panaji with the rates ranging from Rs 4 per four hours for two-wheeler to Rs 20 per hour for four-wheeler.
District Magistrate (North) has issued the notification which has fixed the rate of Rs 4 upto four hours for two-wheelers and then Rs 8 between 4 to 12 hours.
The four wheelers will be charged Rs 20 for first one hour and Rs 15 per each hour thereafter.
The pay parking wil be for 24 hours of all days.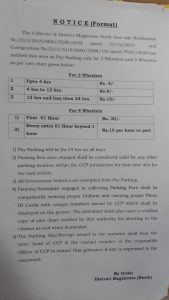 Pay parking fees once charged shall be considered valid for any other parking location within the CCP jurisdiction for that time slot for the said vehicle.
All Government vehicles are exempted from Pay Parking.