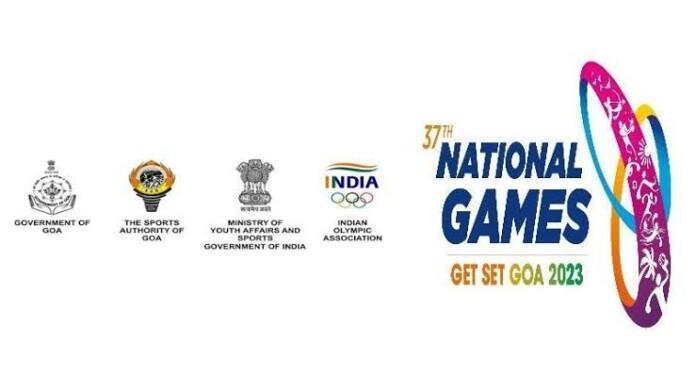 Panaji, October 27: Rhythmic gymnast Sanyuka Kale bagged her third gold medal and Rahil Pakhle clinched the women's trampoline gold as Maharashtra continued their domination of the gymnastics events in the 37th National Games at the Peddem Indoor Sports Complex on Friday.
Sanyuka, who had earlier won the rhythmic team and all-round gold medals, clinched the hoop gold with a total of 26.45 points with teammate Nishika Kale making it a 1-2 for the state with a score of 23.45. Haryana's Life Adlakha secured bronze with 23.35 points.
Later, Maharashtra added another gold and silver to their tally when Rahi Pakhle finished on the top of the podium in Women Trampoline Gymnastics with a score of 43.88 points. Sejal Jadhav bagged the silver with 41.20 points and Kerala's Anvitha Sachin won the bronze with a performance of 40.70 points.
At the Campal Sports Village, Nitek Jangid of Rajasthan clinched the first gold for his state in this edition of the National Games with a total lift of 317 kg in the Men's 81 Kg weightlifting competition. Valluri Ajay Babu of Madhya Pradesh won the silver lifting 312 kg while Abhishek Nipane of Maharashtra won bronze with a total lift of 309 Kg.
In the women's 71 Kg category, Punjab's Harijinder Kaur lifted an aggregate weight of 201 Kg on her way to securing the gold medal. Trupti Mane of Maharashtra finished a distant second with a total lift of 190 Kg and Manipur's P. Umeshwori Devi secured bronze with a total lift of 189 Kg.
In the Men's 89 Kg category, all three medallists were decided on fine margins as just two kilograms separated the gold and bronze medal winners. Gaurav of Chandigarh secured gold with a total lift of 319 Kg overcoming P.S Marush of SSCB by a single kilogram who settled for a silver. Amarjit Guru of Punjab lifted an impressive 317 Kg but had to settle for bronze.
At the Campal Indoor Stadium, hosts Goa booked their places in the final of the Men's Fast5 Netball beating Karnataka 42-41 in a tightly contested match. In the other semis, Haryana comprehensively beat Delhi 50-24 to confirm their place in the final.
In the Women's category, Haryana will face neighbours Punjab in the finals. In the semi-finals, Punjab edged Kerala 26-25 by a single point while Haryana beat Telangana 24-17 in the other semi-finals.
At the Dr. Shyama Prasad Mukherjee Indoor Stadium, Punjab won the gold in Women's Sabre Team event. In the final's Kerala were leading 27-24, but an injury to Josna Christy Jose forced Kerala to forfeit the match and settle for the silver. Tamil Nadu and Haryana secured the bronze medals.
Important Results:
Weightlifting
Women's 71 KG
Gold – Harjinder Kaur (Punjab) – Snatch – 88 Kg, Clean & Jerk – 113 Kg, Total – 201 Kg
Silver – Trupti Mane (Maharashtra) – Snatch – 87 Kg, Clean & Jerk – 103 Kg, Total – 190 Kg
Bronze – P. Umeshwori Devi (Manipur) – Snatch – 85 Kg, Clean & Jerk – 104 Kg, Total – 189 Kg
Men's 81 KG
Gold – Nitek Jangid (Rajasthan) – Snatch-138 Kg, Clean & Jerk-179 Kg, Total- 317 Kg
Silver – Valluri Ajaya Babu (Madhya Pradesh) – Snatch-142 Kg, Clean & Jerk-173 Kg, Total – 312 Kg
Bronze – Abhishek Nipane (Maharashtra) – Snatch-136 Kg, Clean & Jerk-173 Kg, Total- 309 Kg
Men's 89 Kg
Gold – Gaurav (Chandigarh) – Snatch-140 Kg, Clean & Jerk-179 Kg, Total- 319 Kg
Silver – P.S Marush (SSCB) -Snatch-144 Kg, Clean & Jerk-174 Kg, Total- 318 Kg
Bronze – Amarjit Guru (Punjab) Snatch-143 Kg, Clean & Jerk-174 Kg, Total-317 Kg
Gymnastics
Women's Rhythmic Gymnastics
Hoop Final
Gold – Samyukta Prasen Kale (Maharashtra) – 26.45
Silver – Nishka Chintamani Kale (Maharashtra) – 23.45
Bronze – Life Adlakha (Haryana) – 23.35
Women's Trampoline Gymnastics
Gold – Rahi Nitin Pakhle (Maharashtra) – 43.88
Silver – Sejal Suhas Jadhav (Maharashtra) – 41.20
Bronze – Anvitha Sachin (Kerala) – 40.70
Netball
Men's Fast 5
Semi-Finals: Goa bt Karnataka – 42-41, Haryana bt Delhi – 50-24
Women's Fast 5
Semi-Finals: Punjab bt Kerala 26-25, Haryana bt Telangana – 24-17
Basketball 5×5
Men's Semi-Fina
ls: Tamil Nadu bt Delhi – 103-74
Women's Semi-Finals – Kerala bt Tamil Nadu – 83-66