Panaji: Amidst the challenge to keep a watch on the smallest of the lanes in the state's slums and thickly populated areas, Goa Police deployed drone services to track down the violators during the current lockdown.
Superintendent of Police (South) Arvind Gawas said that the department was assisted by a Goan company which volunteered to provide drone services, nullifying the requirement of physical presence of policemen in those tiny lanes and by-lanes.
Gawas said that that drone was used to aerially monitor movement of people at Zuarinagar near Vasco city, Housing Board colony and Kharebandh locality, both in Margao city of South Goa.
Zuarinagar is one of the biggest slum area of Goa while Housing Board colony and Kharebandh are known for their by-lanes which are inaccessible by four wheeler.
Goa-based entrepreneur Varad Karmali, who runs his own firm 'Droneacharya' volunteered to help the police in aerial survey with his equipments.
"The biggest challenge was how to keep a track on the kids and youth who used to venture out of their houses in those pockets of their localities in these areas despite lockdown," Gawas said.
"Volleyball and small open pocket within the locality was their gathering point. Everytime, we moved police force to track them down, they used to rush back to their homes before we reach there," he said.
Gawas realized that clicking visuals through drone proved as a major deterrent. "With drone lurking over their head, they were afraid that police are watching them from the above. The violations stopped immediately," he said.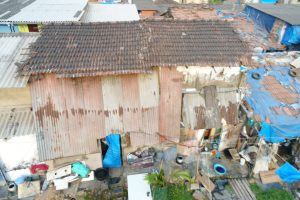 Karmali, who provided his drone service, said that the pictures were clicked as low as 30 metres to provide proper visibility.
"Not just for enforcement of law, police also used the pictures from drone to decide which could be the nakabandi points in these localities during the lockdown," he said.
The checking points in each of the locality were decided after actual visuals of the place were provided by the drone.