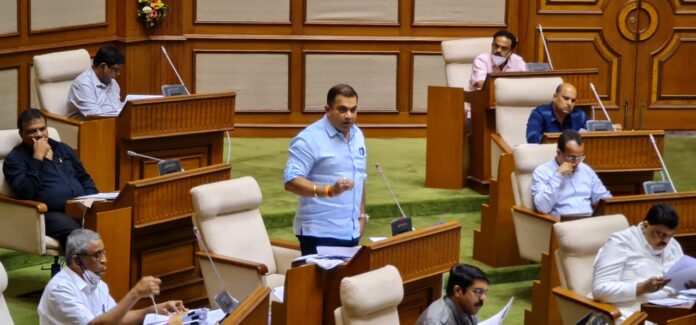 Porvorim: Independent MLA Rohan Khaunte said that if last year was the year of Covid, than the coming year is of agitation for Goa due to insensitive attitude of the government.
Khaunte was speaking on the floor of the House on the congratulatory motion on the speech of Governor.
"Last one year, since February, we have been in Covid situation. Utter failure of this government brought us to standstill," he said.
"Several people lost their lives. We still need to know that the three parts of Social distance, masks and senitization are important. When we have half baked SOPs, that will result in the corrupt practices of the government. covid is yet to be over."
"We are not able to get enough from the centre. I would compare this admistration akeen to Mohammad Tughlaq. CM is making statements and change it as per his whims and fancies."
"This makes us think, where are we going? We are in the 60th year of liberation."
Khaunte pointed out that Governor's address does not find mention of Mollem, Coal, Mining, third State Finance Commission.
Khaunte said that when we talk about Atmanirbhar Goem, and when we question legacy of Parrikar, than which way are we going.
"What are we doing being in Goa. This Govt has kept Goa on sale."
"If last year was year of covid, this year will be year of agitation. People have started coming on roads to save Goa for posterity. Government is acting dumb and deaf n bows down to the dictat of the centre."
Referring to Mhadei issue, the MLA said "today vision of government cannot be seen. Today we are buying time to take care of selfish interest of some people. On the issue of Mhadei, government admits about the violation. But there is no mention about what is the result of your visit to Delhi."
"You are telling us what is subjudice matter. But what have you done to ensure our river is saved. Issue of Mhadei is very important."
"Government is interested only in vitamin M."
Khaunte said that the new revolution in Goa began on January 15 in the form of Shel Melaulim people opposing IIT. "They withstood everything but did not bow down. They made the stubborn CM to bow down. I salute them because they have shown the way for a new Revolution."
Police have become remote controlled by CM and his stooges. It started with my arrest.
Khaunte said that Goans have said that they don't want coal, so Goa need not be a coal hub. "If there is no coal hub than why do we need these linear projects," he added.
The MLA said that it is very dangerous for any state when it becomes a police state.
Goa is becoming Bihar and UP when it comes to police, he said adding that security of innocent Goan is at stake.
Khaunte recalled that a big drug haul by NCB in Calangute constituency was pushed under the carpet.
"When it comes to illegalities, crimes and scams, no one is afraid because there is a feeling that police can be set," he added.
Welcoming the new Educational policy of the centre, Khaunte said that it should have be discussed in the Assembly before its implementation. "Everyone should be taken into confidence while implementing the policy," he said.
The archdiocese society, all schools, parents are confused over the policy as the system has been changed. The government wants to implement it from June 2021 and we are in January and still stakeholders are not taken into confidence, he said.
Khaunte said that the Governor's speech does not have mention about Third State Finance Commission.
The Porvorim MLA said that during his tenure as Revenue minister, he had made tenant association accountable. The system has discontinued due to which the farmers are now suffering due to breach of bundh.
He said that state government before offering 10,000 government jobs should first regularize the services of ill-paid or temporary or contractual government servants in various department.
Khaunte recalled that during his tenure, there was attempt to bring together job giver and job seeker. He claimed that one of the US-based company from Fortune 500 companies has began to wind up its operation from the state.