Panaji: IMA Bicholim in association with Lions Club, Bicholim and CHC Bicholim have recently organised a stakeholders meeting and advocacy workshop at Mini Lions Club Hall bicholim. The workshop was inaugurated by the chief guest, Shri Rajesh Patnekar, by lighting the traditional lamp in the presence of Chairperson of Bicholim Municipality Shri Kundan Falari, Chief Officer Mr Kabir Shirgaonkar, Dr Medha Salkar and Dr Shekhar Salkar.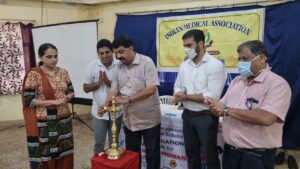 BMC Councilor Shri Riyaz Baig, Shri Vijaykumar Natekar, Mrs Deepa Shirgoankar , Mrs Aparna Fogueri, Mr Aniket chanekar, Mr nilesh Tople , Mr korgoankar were also present on the occasion. Mr Sangam Pal , Kamlesh Teli, Mr Sagar Shetye, Vallabh Salkar representative from office of Mamletdar, labour contractors, industrial estate , market inspector of Bmc and others even attended the event.

Dr Medha Salkar welcomed the gathering and stressed that each one of the stakeholders should behave in a responsible way to prevent dengue and its spread. She also congratulated all for making Bicholim a malaria free now town after it had 11 cases initially. Ms Chandroji gave a lucid presentation on precautions to be taken to prevent dengue and it's spread.

Chairperson Shri Falari and chief officer extended their full support to control of the spread of dengue in Bicholim. Shri Patnekar stressed on the need to be a responsible citizens and applauded the efforts of CHC Bicholim and IMA Bicholim under the leadership of Dr Medha Salkar. He even distributed umbrellas to the field staff of CHC Bicholim as recognition of their hard work.
Dr Shekhar was the host of the function and proposed the vote of thanks.