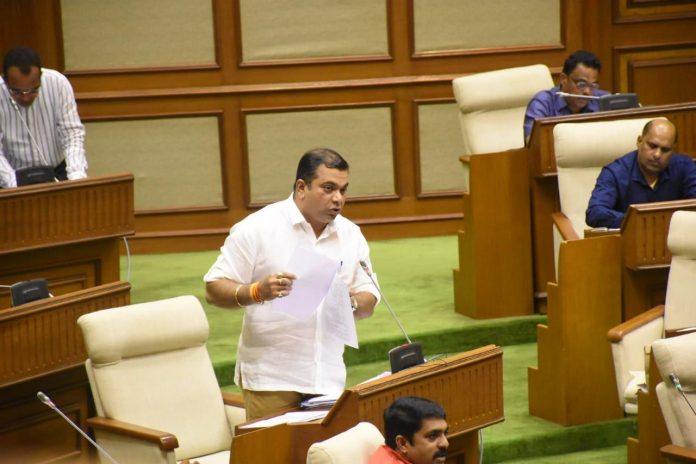 Porvorim: Independent MLA Rohan Khaunte speaking on the motion moved to thank Governor, for which he has moved an amendment, said that Pramod Sawant led government has no vision and no money, while it has been busy only making announcements.
In his speech, the Independent MLA said that when they were in the government, they had tried to take ahead the development of the state.
"The address does not have right figures. Per capita income is showing highest in the country but they have not mentioned about public debt and other figures," Khaunte said.
He pointed out that as far as borrowings are concerned, there are different figures. "And if consider Rs 24,000 crore then per capita debt is Rs 1.5 lakh," Khaunte said.
The MLA also said that attempts were made to divide the state on the issues like CAA.
"We were all together, but now we look at each other suspiciously. Unemployed and hungry youth is fighting for and anti CAA. Politics has been played in such a way," he said.
"Goa is having a communal harmony. All the 40 MLAs have the responsibility to stop such disruption to percolate in Goa," Khaunte added.
"We cannot have disparity in thoughts. Every progressive state works on creating more progressive policies which takes the country ahead," he said.
"There is no time for issues like Mahadayi, drugs and prostitution but time is spent on useless issues."
"It is our responsibility to protect Mahadayi, Karnataka cm is asking for money to create dams and we are sitting idle. This is not right. 25 per cent of water is already diverted on kalsa bhandura."
Khaunte said that Goans want good roads, water, garbage collection and employment.
"We have to understand that though mining might resume, it cannot go the extend it was in the past contributing to GDP," he said.
Khaunte said that GST figures in Governor's address are wrong. "It is said Rs 2500 crore but actually it is Rs 1600 crore. Fix responsibility on the government officers who give errant figures,"he added.
Khaunte said that the state government has been borrowing loans to pay the government salary. Our future generation will carry lot of debt on their head, he said.
The MLA said that the start up and IT Policies are not getting push. "Does government has no policy or they want to finish legacy of late Manohar Parrikar," he said.
He questioned how STPI was given land at Dona Paula without IT Goa having its board in place.
Khaunte said that the scams are going in the constituency like Porvorim. "Serula communidade scams are given protection. There is no action taken despite formal complaints written to chief minister and others," he said. Serula communidade has set example of the biggest scam.
What is the sanctity of the assurance given by CM about investigations into communidade during the last assembly session, Khaunte questioned.
About Naphtha issue, he said CM was on record that he would file FIR against MPT Chairman. "I am still waiting for the FIR and investigating report," he said.
 On tourism front, he said we are doing the things without plans.
He also pointed out that there is no single window system for industrial investment. "The investor who enters Goa gets caught like Abhimanyu in Chakravyuv," the MLA said.