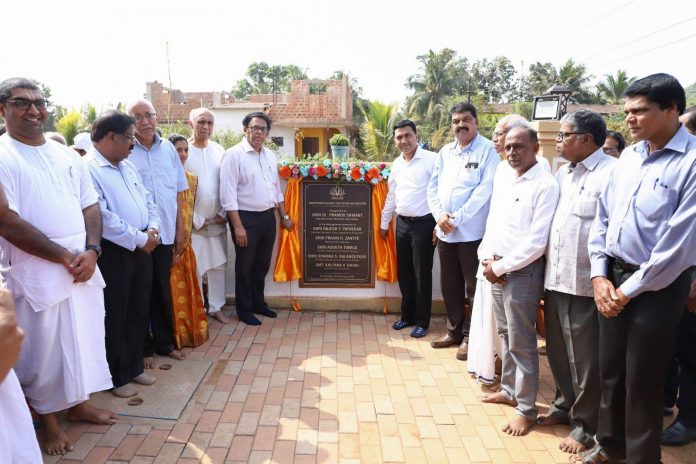 PANAJI: The Chief Minister of Goa, Dr. Pramoda Sawant has inaugurated ISKCON's newly constructed Bhaktivedant Academy for Culture and Education (BACE) at beautiful Chorao Island on Sunday.
Sawant along with Speaker of Goa Legislative Assembly, Rajesh Patnekar, Mayem MLA Pravin Zantaye, Fomento Group Chairman and Philanthropist, Auduth Timblo, Chodan-Madel Village Panchayat Dy. Sarpanch Kalpana Dhuri, Former Mayem MLA, Dharma Chodankar, Mayem Constituency ZP Member Shankar Chodankar, BJP Spokesperson Premanad Mhambre, ISKCON Monks, Sanat Kumar, Shubha Vilas Das, Achyuta Gopal Das, Shyam Rashik Das, Arjun Priya Prabhu, Senior ISKCON Goa Devotees Ranganath Das and Baldevanad Das among other were present for the inauguration.
While addressing ISKCON congregations and Chodan-Madel Villagers, Sawant appreciated an efforts of ISKCON for building BACE in Chodan village.
He urged ISKCON along with other monastics functioning in Goa to work towards making Goa a spiritual tourism destination with drug free and bad habits free Goa.
He is of firm opinion that only spiritualty would help one become free from wrong doing and bad habits.
"Spiritual organization like ISKCON and other monastics should help society free from drug habits and other social evils. While government can only play a pivotal role of facilitator," said Sawant.
Pleased with CM's though process, while speaking Fomento Group Chairman and industrialists, Auduth Timblo, appreciated that government should be a facilitator to social organizations and private entity rather be executor in certain segments.
"People and social organizations plays a major role than government to create better society, over dependent on government is wrong concept. Government should play active role as a facilitator," said Timblo.
Earlier, Speaker of Goa Assembly Rajesh Patnekar, urged ISKCON to avail government benefits to help cows and cowshed in Goa.
While informing the purpose of establishing BACE at Chorao, Shubha Vilas Das said that ISKCON desires to revive Goa's spiritual essence and make it drug Free State to promote it as spiritual tourism destination across globe.
BACE would provide a permanent place of Worship, Youth Counseling and Education Center, Rurual Education Help Centre, Organic Farming Promotion and Model for Water Harvesting and Renewable Energy.